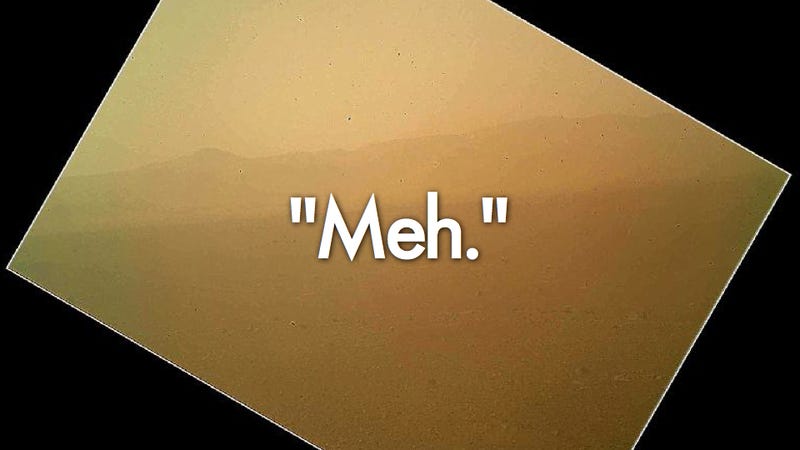 Behold, the Curiosity rover's first color image of Mars. It's beautiful. Dusty, but beautiful. And yet, it might not even be the second-most exciting photograph we've received from Curiosity since it landed. Here's why.
Let me start by saying that this photo is obviously fantastic; there is, by definition, absolutely nothing "meh" about any photograph taken hundreds of millions of miles from Earth, so my apologies for coming off as flippant. Here, take this hi-res, "meh"-less version of the photo up top and we'll call it even.
The photo is notable for capturing some important milestones for Curiosity. Released just hours ago by NASA, this dust-caked view of the terrain north of the rover's landing site was acquired on the afternoon of "Sol 1" (the first Martian day after landing), and is the first image to be photographed using MSL's Mars Hand Lens Imager (MAHLI). This rover has a total of seventeen cameras onboard; it's encouraging to see that its hazcams, its descent imager, and now MAHLI are all in working order. It also offers us one of our first views of the north wall and rim of Gale Crater, the 96-km wide impact basin where Curiosity touched down.