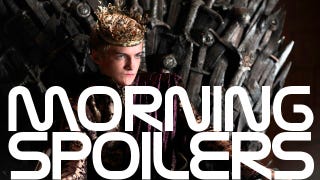 Hugh Jackman continues to look fearlessly scruffy in a set video for The Wolverine. Catching Fire adds a Peacekeeper to its cast. Game of Thrones and True Blood are sticking around for a good long while. Plus new Skyfall photos!
Spoilers from here on out!
Top image from Game of Thrones.
The Wolverine
Here's a set video of Hugh Jackman's scruffy new look for Wolverine, which we saw the other day, which likely ties in with the movie's flashbacks to a World War II POW camp. I'd advise muting the obnoxious narration before watching the video. [IGN]