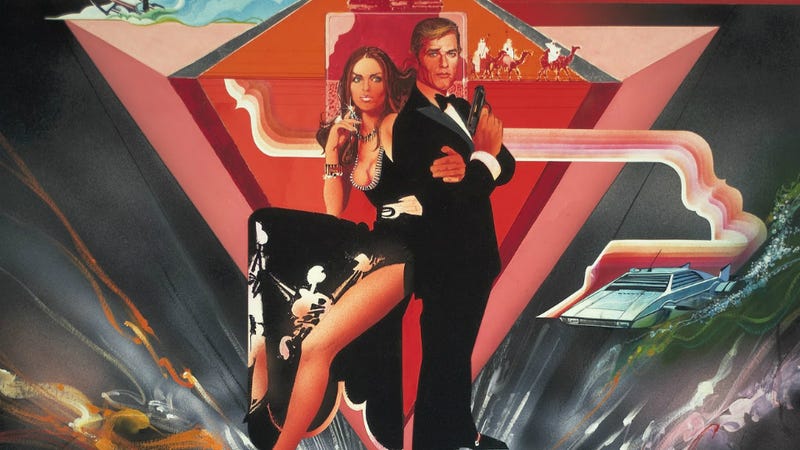 Spies are like the better dressed version of superheroes. They stop supervillains from destroying the world, and they do incredible superhuman feats, with the help of insane gadgets and vehicles. With a new Bourne movie in theaters on Friday, it's a great time to celebrate the "spy-fi" genre, that combines spies and science fiction.
Here are our picks for the 10 best spy-fi movies of all time.
10. The Naked Gun
The first installment in the classic spoof trilogy, starring Leslie Nielsen as Frank Drebin.
The Science Fiction Twist: Technically, Frank is a cop, but at the start of the movie he's already infiltrating a summit of world leaders including Gorbachev and Khomeini. And the main plot revolves around technology that can turn anyone into a brainwashed killer, controlled via a wristwatch.
Why it rules: Nielsen is at his zaniest, and this is the perfect blend of the Airplane sensibility and spy gags.
9. Face/Off
John Travolta is a special agent infiltrating a terrorist group by impersonating its leader, Nic Cage.
The Science Fiction Twist: A bizarre "face transplant" operation that manages to transform Travolta into Cage, and vice versa, without any visible scars or anything.
Why it rules: Sure, it's a goofy film — but this is one of the better John Woo Hollywood films, and both Cage and Travolta bring a decent amount of conviction to their roles as an agent impersonating a terrorist and vice versa.
8. xXx
Vin Diesel is a rebellious punk, who's recruited to infiltrate an anarchist group by the NSA.
The Science Fiction Twist: The anarchists want to launch an underwater drone missile that will travel around the world, dispensing a secret super-lethal chemical weapon that's made out of ordinary harmless chemicals.
Why it rules: This is a ridiculously fun romp, and Vin Diesel is at his slyest and most entertaining.
7. Austin Powers
The first, and best, in Michael Myers' trilogy about 1960s superspy Austin Powers, who turns up in the 1990s.
The Science Fiction Twist: Dr. Evil is cryogenically frozen inside a Big Boy rocket, and returns with a plan to launch a nuclear missile into the Earth's core and cause volcanic eruptions. His main opponent, Austin Powers, volunteers to be frozen as well, and reawoken in 1997.
Why it rules: Unlike the somewhat forced wackiness of the later Austin films, this comedy feels genuinely fresh and self-mocking, with the Blofeldian Dr. Evil being particularly excellent.
6. Mission Impossible: Ghost Protocol
Brad Bird directed the fourth outing in the Ethan Hunt saga, with huge IMAX action and crazier toys.
The Science Fiction Twist: Like all of these films, it's the gadgets. This time, there are "gecko" climbing gloves, document-copying contact lenses, and holographic car windshields.
Why it rules: It's probably the most fun of all the Mission films. Simon Pegg was added in the third movie, but he gets to be totally ridiculous here, and Jeremy Renner is a nice addition. Plus, the IMAX filming really does result in amazing visuals.