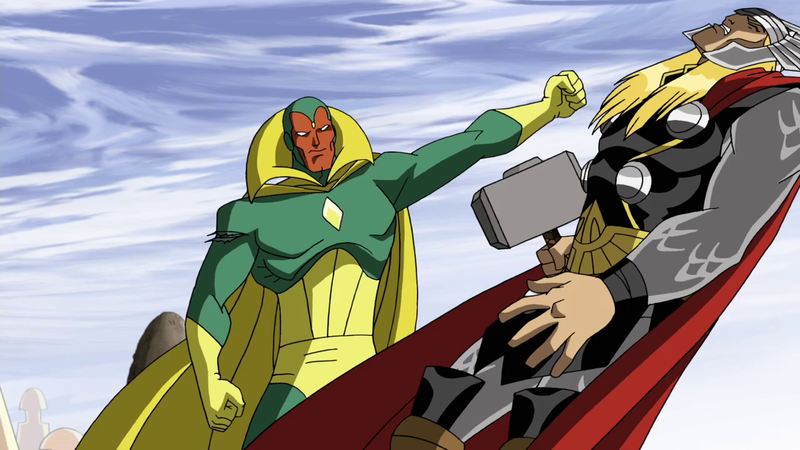 One of the coolest animated films of all time is getting a weekly TV show — and here's your first taste. Plus you can relive the amazing landing of Curiosity on Mars, with a TV special that gets up close and personal with high-quality reconstructions of every stage of the landing. Plus both Futurama and Morgan Freeman are delving into the meaning of existence, back to back. Gravity Falls is back! And Warehouse 13's Eddie McClintock faces... the Boogeyman.
Check out brand new clips and previews from all of this week's TV, below.
Top image: Avengers: Earth's Mightiest Heroes.
Today:
Adventure Time (7:30 PM, Cartoon Network):
It's a whole episode starring B-Mo, that cute little guy. In "B-Mo Noire,"
When Finn thinks he's lost a sock, B-Mo is covertly on the case.
Awwww. That's followed by a new Regular Show, a new Annoying Orange, and a new Mad.
Warehouse 13 (9 PM, Syfy):
Apparently, even though Sykes was neutralized in the season opener, that's not the end of it:
Pete and Myka require the need of the rest of the team when they have to track down the remaining artifacts from Sykes' arsenal.
And meanwhile, Claudia and Steve are back on the job together, despite some unresolved issues, as you can see in the above clip.
Teen Wolf (10 PM, MTV):
Remember how everybody made fun of this show for being about lacrosse? Well, in "Battlefield,"
Scott has to pull double duty by playing in the championship lacrosse game and finding a way to stop Gerard.
Check out a promo with an awesome Saul Tigh voiceover.
Alphas (10 PM, Syfy):
Here's what Syfy wants you to know about this sneak peek from "Alpha Dogs":
An investigation leads Harken and Hicks to go undercover in a secret, underground Alphas-only Fight Club.
Every show has to do its "Underground Fight Club" episode, it's the law.
Also on TV tonight: Another brand new Scooby-Doo: Mystery Incorporated on Cartoon Network at 2 PM.
---
Tuesday:
Dragons: Riders of Berk (7:30 PM, Cartoon Network)
It's the one-hour premiere of this long-awaited spinoff of How to Train Your Dragon. Says Cartoon Network: