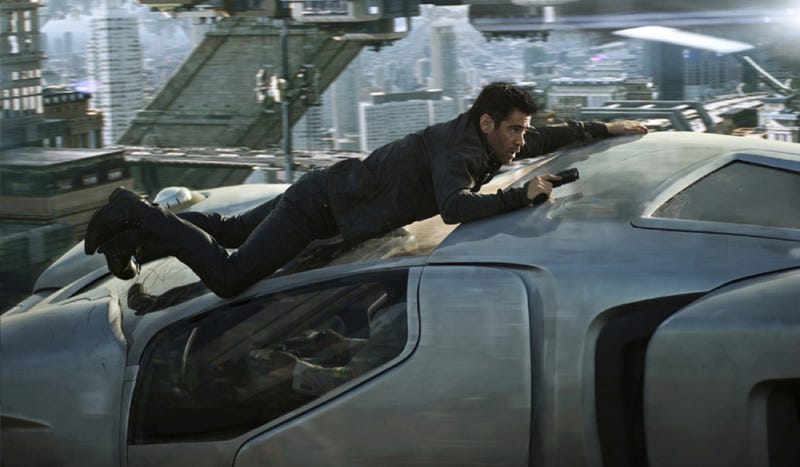 Total Recall is like Bourne Identity met Blade Runner, then had an ugly tabloid breakup followed by a nervous breakdown and a tell-all book. This remake of the 1990 cult classic Total Recall has all the ingredients of greatness, but squanders them. The result is an opulent film, packed with shiny details, that never persuades us to engage with its storyline — or even to have a good time.
In one way, Total Recall does succeed. It is a comprehensive re-imagining of Paul Verhoven's film, itself based extremely loosely on a Philip K. Dick short story. Verhoeven's Recall took its main character to Mars, where he heroically helped the oppressed plebes and mutants of the Red Planet get out from under the thumb of the corporation that owns the oxygen in their habitrails. The first film had a kind of Golden Age SF expansiveness that made it both silly and profoundly fun.
The new Total Recall is a much darker film, set on a post-apocalyptic Earth where chemical warfare has forced all of humanity live in two megacities — the UK and Australia (called simply The Colony). There are no mutants, no space travel, and no epic adventures. It's gritty urban realism of the future, complete with surveillance and environmental catastrophe. Our hero (Colin Farrell) is an average Joe with an annoying wife named Lori (Kate Beckinsale) and a crappy job on an assembly line building robocops (nice detail). But he yearns for a better life. So he goes to Rekall, a company that promises to implant him with fun memories of being a super spy. But it turns out that he's already got some false memories — and the real "him" is a guy named Hauser who is leading the Colony's resistance against the UK. Cue three giant chase scenes: one to get to a Bourne Identity-style safe deposit box; one through urban slums like the ones in Blade Runner; and one of which has him zooming in wall-climbing cars ala Minority Report.
Instead of Mars, this new Total Recall gives us a literal hole in the ground. The big showstopper of the movie, which its creators have touted extensively, is "The Fall," a giant elevator that plunges through the center of the Earth. It's the super-fast form of transportation between the UK and The Colony, delivering the oppressed in The Colony to their low-income jobs in the UK. It's a cool idea, but in a movie whose premise is "we went gritty and real this time" it was probably not the right way to go. Let's leave aside the irritatingly improbable physics of the thing (you'll see what I mean — wear something soft on your forehead because you're going to slap it).