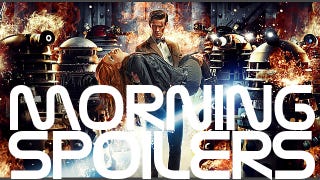 Watch Bryan Cranston get villainous in a brand new Total Recall clip. Rene Russo hopes to return as Queen Frigga in Thor: The Dark World. American Horror Story gets a new subtitle, but what will the third Hobbit movie be called?
Spoilers from here on out!
Top image from Doctor Who.
The Wolverine
While Jessica Biel has dropped out of the running to play the villainous Viper, she was good enough to explain what was interesting to her about the character:
That particular character was really cool. She was this vivacious woman who is thrilled about her own immortality, and it was interesting, that kind of persona, I thought, for a quote-unquote "villain" character. And I was really interested in the director [James Mangold], so it was worth the conversation.
---
Thor: The Dark World
Rene Russo discusses her role as Odin's wife Frigga and how she would like to fit into the upcoming sequel:
"You know, they cut me [down] in the first film. [Director] Kenneth Branagh sent me a nice note, because he understood, he's an actor. You move on, what are you going to do? But I think they're going to need a good mom in the next film. Loki needs his mom. What the hell? I have a lot of compassion for him. But we might have to have a conversation about what he just did," Russo laughed. "And I might have to have a chat with Thor. But I am so confused — is Thor my son or not? People have been telling me recently, 'No, you're not his mother.' It's all so confusing! I got to tell ya, it would be a little embarrassing if I don't know. I need to read more about her."
[Vulture]
---
Total Recall
Here's a new clip, which gives us an awesome glimpse of Breaking Bad's Bryan Cranston as the evil Cohaagen:
Jessica Biel plays Malena, the (quite possibly literal) woman of Colin Farrell's dreams in the upcoming reboot, and she describes what drew her to the character:
I said, "Here's a really interesting female character." She's quite developed, she's emotional, she's a real woman, but she's totally capable and totally able. She's in this world that is an interesting theme, and interesting idea. What is identity, what is reality, what isn't? Interesting things to discuss in a world where the director has an amazing vision for what he wants, which is totally different from [the] original, and in my opinion, not a remake. At all. It's really a reimagining of the short story, of the source material, from [Philip K.] Dick's short story. So all of those elements were quite interesting to me, and the fact that Colin Farrell was going to play this Arnold Schwarzenegger character. This is obviously a different kind of film. This is something so different. When you say Colin's that main guy, I go "Oh! That's different! Okay!"
She also discusses whether her character is real or just a figment, and whether this film is more likely to be depicting reality than Paul Verhoeven and Arnold Schwarzenegger's original:
...I'd still prepare and create the character in the same way that you would whether she's a figment of someone's imagination or whether she was completely real... I think if you were a figment, you wouldn't necessarily have to represent everything specifically, you could represent more from a larger sense. But I don't think she's a figment, and I don't think [director] Len [Wiseman] thinks she's a figment either. Obviously [we] leave it slightly vague.

Sure, sure, but your interpretation of the script, at least from your perspective, is that it has to be real.
Yes.
There's a bunch more at the link. [Crave Online]
Elsewhere, Biel talks some more about how she and the rest of the creative team balanced the action and emotional connections between the characters:
It's just constant care and attention. It's constantly Colin and I, or whoever you're working with, going, "We have to give this the some time — let's do that again and think of how we can make the scene stronger emotionally." I know we have to shoot the big action sequence, but if you don't care about the two people going through it, who cares at the end of the day? And really, it's your director. If Len didn't care about a female character that was equally smart, cool, tough, kick-ass and emotionally vulnerable, emotionally sensitive and actually a woman, a real person, then you're dead in the water. Because he, in the end, is the only person who has the ability to put it all together, and on this one particularly, he cared about letting this person be this well-rounded and real — in a heightened sense, but a real woman.
There's more at the link. [Heat Vision]
Here's a behind-the-scenes look at the movie's hover cars. [Yahoo! Movies]

---
The Hobbit
Now that Peter Jackson's adaptation has been officially expanded into a trilogy, the question becomes just what the additional film will be called, since the other two films are (at least for now) The Hobbit: An Unexpected Journey and The Hobbit: There And Back Again. To that end, New Line has reportedly registered two new subtitles, The Hobbit: The Desolation Of Smaug and The Hobbit: The Battle Of Five Armies. Since There And Back Again feels most appropriate for the title of the final film — hence the "and back again" bit — I would speculate that one of these two subtitles will be used for the second of the three films. Personally, I'd probably favor Battle Of The Five Armies, but I could quite easily be persuaded. Just as long as the original, incredibly fitting subtitles are still used, I won't complain. [The One Ring]
---
Dark Skies
Josh Hamilton — that dude from The Bourne Identity, not the 2010 AL MVP from the Texas Rangers — has reportedly joined Felicity star Keri Russell and Thor's Dakota Goyo in the cast of the latest film from Priest and Legion director Scott Stewart. The film is reportedly "a psychological thriller about a suburban couple whose lives become a nightmare when a terrifying alien presence enters their home each night to prey upon their children. Increasingly isolated from skeptical friends and neighbors, the couple is forced to take matters into their own hands to save their family." [Shock Till You Drop]
---
Doctor Who
To accompany the newly released trailer, here's an incredible new promo image from "Asylum of the Daleks", the episode that kicks off the seventh season. (Click for a huge wallpaper-size version.) And no, Amy almost certainly isn't dead in this photo, in case you're wondering. If — and this is a massive if — she does die this series, it won't be until the fifth episode, which is the one in which they fight the Weeping Angels in New York City. Anyway, the BBC has helpfully released this description of the image: