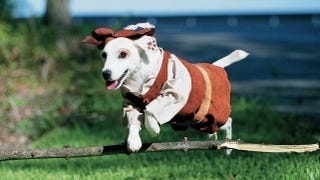 Thank you for purchasing CliffNotes: Wishbone - "Bark To The Future," an educational guide for those readers requiring assistance in understanding the fundamental plot points of H.G. Wells' science fiction novella The Time Machine, as depicted in the defunct 1990s PBS children's show Wishbone (ages 5-12).
Whether you use this guide for the classroom — perhaps for your "Talking Animal Narratives: 1995-1998" seminar, the bugbear of many design-your-own major undergraduates — or simply to supplement your library of Wishbone-related literature, as the publisher we guarantee a fivefold increase in your knowledge of Jack Russell Terriers wearing tiny jackets.
FORMAT NOTE: Most CliffNotes guides are bound as paperback books, but to accommodate the consumer, we have printed the text on an oversized, laminated placard, not unlike that of a diner menu.
"Bark To The Future" is the twenty-third episode of the first season of Wishbone. The eponymous character is a sentient dog who possesses a frightening knowledge of both the English language and human literature.
The viewer learns neither how Wishbone acquired his literacy nor if he rejected a secret canine canon — presumably one built of eons of woofs and arfs ferreted away on lush, illuminated manuscripts, perhaps by those alien dogs from 101 Dalmatians 2 — to do so. (For further information on this topic, please consult CliffNotes: Canineopolis, Or Dinotopia With Every Occurrence Of The Word "Dinosaur" Replaced With "Dog.")