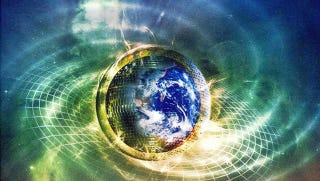 Nowadays, everybody says that science fiction has stopped talking about Big Ideas. Science fiction used to be the genre that asked the huge questions, about who we are and where we're going. But somehow, people say, the genre lost its appetite for deep thoughts.
But if you've been keeping up with recent science fiction books, you already know it's not true. Here are 10 great science fiction novels, published since 2000, that raise huge, important questions.
Top image: Detail of Hungarian cover of Robert Charles Wilson's Spin.
To compile this list, we asked you to name your favorite 21st Century science fiction novel about ideas, over on our Facebook page. You named dozens of books, but here are the ones that cropped up the most or seemed the most significant.
1) Spin by Robert Charles Wilson (2005)
The premise of this book is already a "big idea" — the Earth is surrounded by a weird membrane that slows things down so that a minute on Earth is a century or more outside. But then the novel goes on to explore other big ideas that come out of that, including the role of religion, and how knowing about the end of the world changes people's notions of faith. The questions get even bigger after humans terraform and colonize Mars, with Martian civilization becoming ancient and sophisticated pretty much overnight. By the time you find out what's really going on, you're dealing with huge notions about the rise and fall of civilizations, on a cosmic scale.
2) Super Sad True Love Story by Gary Shteyngart (2010)
We were kind of surprised to see people mention this one — but it really fits, once you think about it. At first blush, Shteyngart's acclaimed novel is just what it sounds like: an unhappy love story between a man and a woman, set in the near future. But the dystopian near future that Shteyngart creates is detailed enough to become immersive — and when he gets around to depicting the collapse of the U.S. economy and the resulting chaos, then his main characters are faced with impossible choices. Which do, in the end, bring up some huge questions about the nature of love, among other things.
3) The Lifecycle of Software Objects by Ted Chiang (2010)
This book totally rocked our brains, with its clever take on a more organic development of artificial intelligence, in which play and interaction are both important. But this novella is also one of those stories where you think you know where it's going — but you keep being wrong, because Chiang has a lot of tricks up his sleeve. And a lot of those tricks turn into examinations of huge, searching questions about the nature of consciousness and existence. The "owners" of these burgeoning A.I. creations face some tricky ethical dilemmas — and those aren't what you expect, either. A lot of books about artificial consciousness aim to uncover something about the human mind, along the way — but Lifecycle manages to say interesting stuff about the nature of love and personhood, too.