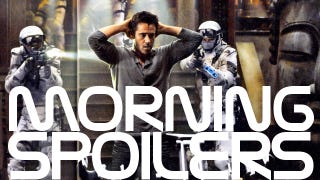 Joel Wyman drops crucial hints about how Fringe will end. Check out the making of Total Recall's action scenes. NBC turns to Dracula. Game of Thrones adds a Misfits alum. Plus more details about NBC's electricity-free series Revolution!
Spoilers from here on out!
Top image from Total Recall.
Iron Man 3
Here are some promo photos from the recent filming in Rose Hills, North Carolina. Here's some additional context on the photos from Rose Hills local Sue Wells, which point to a Christmas setting and an explosion in an office building:
They bought a ton of items from our Carolina East Wallace Hospice Thrift Store... last Saturday, they bought Christmas decorations... yesterday, he call me and asked could we open the store for them to purchase more items he had seen... they bought desk, chairs, ... all kinds of office scene things... they are going to blow them up in a scene so they had to have duplicates of everything!!!
Here are some new casting calls put out under the movie's fake production name Caged Heat. The casting people seem to be going to some ridiculous lengths to avoid using the term "mobster":
Seeking Males 30's -60's who can pass for Sopranos, Goodfelllas & The Godfather types. Submit to us cagedheatextras@gmail.com with the heading GUARD. Please DO NOT submit for this if you do not truly look the part.

Caged: Seeking Young Rocker, post Punk and Goth types. Males 18 -22 that can portray teens. Submit photo and your information to us at cagedheatextras@gmail.com with heading REQUEST.

Caged: Seeking Punk & Goth type males ages 18 -20 that can portray teens. Please submit your photo and information to us at cagedheatextras@gmail.com with heading GOTH

CAGED: Seeking Adults and Children of Middle Eastern and Indian descents. Submit to us at cagedheatextras@gmail.com with heading AUG.
Here are more set photos from the recent mid-air rescue scene. You can check out some corresponding set videos at the link. [Comic Book Movie]
---
The Hobbit
After revealing his desire to turn his Hobbit adaptation into a trilogy, Peter Jackson has reportedly spent the last week with producer and wife Fran Walsh and writer-producer Philippa Boyens to figure out the logistics of shooting as much as two more months worth of footage. The challenges include sorting out the actors' contracts for them to return, making sure the financials make sense for Warner Bros. to give it the green light, and securing any lingering rights questions — and with The Hobbit, there are always lingering rights questions, for whatever reason. Reports indicate the decision on whether to go ahead will be made in the very near future, with the goal being to "tell more of the story", even if it seems like an open question whether there's really enough story in The Hobbit for two movies, let alone three. [Heat Vision]