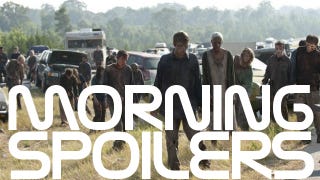 Peter Jackson gives his latest guided tour of The Hobbit. Edgar Wright and J.J. Abrams have their very own top secret collaboration. Plus Sarah Wayne Callies opens up about Lori's future — or maybe lack thereof — on The Walking Dead!
Spoilers from here on out!
Top image from The Walking Dead.
Catwoman
Looks like we can add one more idea to our list of ways for Warner Bros. to keep Christopher Nolan's Batman universe alive — because Anne Hathaway says she would consider doing a Catwoman spin-off movie under the right circumstances: