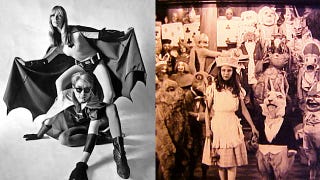 In 2012, such heralded heroes as the Caped Crusader and Bilbo Baggins will hit the multiplex, making the producers enough gold bullion to make gallons of extremely expensive, fatal soup.
But what audiences tend to forget is that these characters — along with many, many other cinematic icons — made their live-action debuts decades ago, way before their definitive film treatment came out. Here are ten obscure movies from yesteryear, starring familiar protagonists in zany circumstances.
10. Alice In Wonderland (1915)
There were several early adaptation of Alice's Adventures in Wonderland, including a 1923 version by Walt Disney. This silent adaptation of Lewis Carroll's famous children's book (photo above) is renowned for both its unnervingly static camerawork and exquisitely bizarre costumes, which makes the film look like archival footage from the Sioux Rapids Joint Anthropomorphic Animal Hootenanny/Bathtub Rye Convention/Rail-Yard Troubadours for Woodrow Wilson Fundraiser. Things get uniquely strange during the Mock Turtle's "Lobster Quadrille," when the crustacean suits come out.
The first, 1903 movie adaptation of Alice also scores major points for what is undoubtedly the least interested Cheshire Cat in the history of cinema.
9. Frankenstein (1910)
In (Thomas) Edison Studios' version of Mary Shelley horror classic, Frankenstein discovers the secret of life after accuring enough course credits for an associate's degree. Once he builds his shambling, gross-out creation, Frankenstein defeats him using the power of love. Like Huey Lewis! Seriously, not making this up — read the plot synopsis.