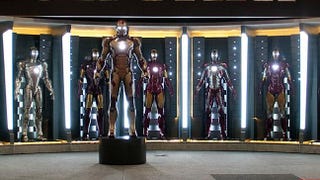 Going to San Diego Comic Con is a lot like visiting the future — you spend a lot of time obsessing over TV shows and movies that won't arrive for months, or even a year or two. We just spent five days in San Diego, discovering all of tomorrow's entertainment obsessions, and now we're back with full documentation.
Here's the very best of what we saw at Comic Con 2012.
Top image: Iron Man's new suit unveiled at the Iron Man 3 booth, via Marvel.com.
First of all, the view from a dozen light years away. Here are our choices for the biggest winners and losers in Comic Con's perennial buzz wars. And here's our painstaking roundup of all the coolest displays, and things to buy, on the Comic Con floor. (Not to mention the most embarrassing advertisements.) Despite all the logistical challenges, this remained a once-in-a-lifetime event.