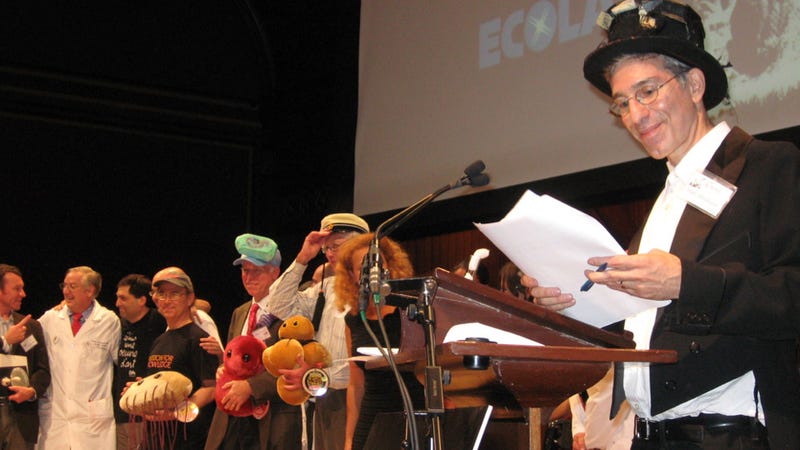 In 2008, a team of Japanese researchers developed a way to extract vanilla flavoring from cow dung. In 2003, scientists at the Cornell Food Lab investigated the limits of human appetites, by feeding people with self-refilling, bottomless bowls of soup. And in 2010, investigators from the Zoological Society of London perfected a method for collecting whale snot using remote control helicopters.
It may not always seem like it, but science is actually loaded with weird and alluring studies such as these. It's Marc Abrahams' job to find them.
For over two decades, Abrahams has split his time between editing the science humor magazine Annals of Improbable Research and organizing the the Ig Nobel Prizes, an annual awards ceremony that recognizes those scientific achievements which "first make people laugh, and then make them think." (In the image up top, Abrahams can be seen in a top hat MC-ing the event).
If you're unfamiliar with the Ig Nobels, check out our coverage of 2011's proceedings. If you're looking for a one-sentence description... there really isn't one that can do it justice; just understand that it's the only ceremony on Earth where you can listen to real Nobel laureates partake in an operatic ode to coffee's effects on the human sphincter. To quote Amanda Palmer, the Igs are "like the weirdest f-ing thing that you'll ever go to... it's a collection of, like, actual Nobel Prize winners giving away prizes to real scientists for doing f'd-up things... it's awesome."