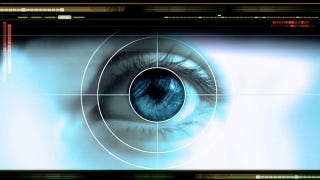 Every human has limits. You can only run so fast, jump so high, and go for so long without water. But what about restrictions upon our five senses, those tools that we use to perceive and understand our surroundings? Here are ten limitations on human perception that have a direct impact on how we understand the world.
---
Vision
About one quarter of the human brain is involved in visual processing - more than any other sense. Arguably the most closely studied of the five main senses, the Society for Neuroscience claims that more is known about vision than any other vertebrate sensory system.
10. Field of View
A pair of healthy human eyes has a total field of view of approximately 200 degrees horizontally — about 120 degrees of which are shared by both eyes, giving rise to what's known as binocular vision — and 135 degrees vertically, (though these values tend to decrease with age). This is due to the fact that both of our eyes are positioned more or less on the front of our heads, as opposed to the sides.
Having eyes positioned on the sides of one's head is common in prey species, and while it certainly increases an animal's total field of view, it's often at the expense of sharper binocular vision (see the helpful chart featured here, which shows the differences in vision between pigeons, whose eyes reside on the sides of their heads, and owls, who, like humans, sport front-facing peepers). Then again, if one of your primary concerns as an animal is to avoid being eaten (as opposed to seeing what, precisely, is trying to eat you), that's a pretty reasonable tradeoff.
9. Angular Resolution
Angular resolution is one of the terms used to describe an optical device's ability to distinguish very small details. If you want to talk about the smallest thing perceivable by the human eye, it makes sense to do so in terms of angular resolution.
Angular resolution is commonly measured in units known as arc minutes and arc seconds, which correspond to 1/60th and 1/3600th of a single degree in your field of view, respectively. The typical set of human eyes has an angular resolution on the order of one arc minute, give or take a few arc seconds. If you were to draw a line measuring a third of a millimeter wide on a piece of paper and hold it at arm's length, the line would cover about 1 arc minute of your vision.
8. The Blind Spot
The human eye is lined with photoreceptor cells that it uses to perceive light. Visual information received by these photoreceptor cells is relayed to the brain via the optic nerve. The only problem is that the optic nerve actually passes through part of photoreceptors lining the inside of the eye, creating a small, receptor-less patch where it's impossible to detect light.
Normally this isn't an issue. We've got two eyes, and our brains are incredibly good at using the visual information gathered from each eye to fill in the gaps left by the other's blind spot. But things get screwy when you have to rely on just one eye. Try this optical illusion on for size to see what happens when your brain can't find the visual information lost to your eye's blind spot.