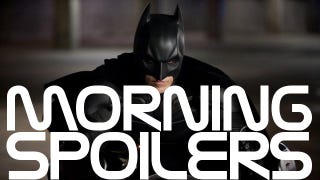 Christian Bale reveals his greatest moments in The Dark Knight Rises. Go further inside the insane backstory of Will Smith and M. Night Shyamalan's After Earth. Daniel Radcliffe has Horns, while his old director Chris Columbus gets Creepy. Plus True Blood, American Horror Story, Vampire Diaries, and more!
Spoilers from here on out!
Top image from The Dark Knight Rises.
The Dark Knight Rises
Star Christian Bale discusses how the final Batman movie keyed in on some unintentional topical resonance, and how this is all in line with the character's long history:
"Chris Nolan has an uncanny ability to make movies topical. When the script for this final film was written in 2008, he had no idea that there would be Occupy Wall Street. When we were filming those scenes, I looked at him and said, 'How did you know?' The character was created in 1939 during World War II. It was an answer to the uselessness individuals felt during this horrific time in the world. He was always a very topical character, and Chris returned it to that."
He explains how much he enjoyed filming the movie's massive fight scenes:
"We had one final fight scene between Bane and Batman that started on location in Pittsburgh and finished in New York City. It took forever. We just kept punching each other out. There was also the excitement of about 1,000 extras around us. Everyone was punching each other. It invigorated Tom Hardy and me."
He also reveals that the last ever scene he shot as Batman was on a New York City roof with Anne Hathaway, although that obviously isn't likely to be the character's final appearance. [Chicago Sun-Times]
---
Lobo
Fast Five star Dwayne "The Rock" Johnson unequivocally confirmed the rumors that he might play the DC Comics character and ultra-violent, intergalactic bounty hunter Lobo in an upcoming movie. Specifically, his Journey 2: The Mysterious Island director Brad Peyton is involved, according to Johnson, as is super-producer Joel Silver, the man behind such films as Die Hard, The Matrix, and Sherlock Holmes, among many others. The Rock said he is "possibly playing Lobo", and that it "could be fun", suggesting this is still a little ways from being anything official. [Cinema Blend]
---
After Earth
Here's a viral teaser that helps explain the absurdly complicated mythology — which prominently involves the Tunguska explosion and a lot of people called Raige, which isn't at all silly — behind M. Night Shyamalan's new film, starring Will and Jaden Smith. [Coming Soon]