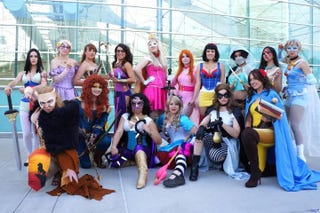 This group of cosplayers was taken with a piece of Disney superheroine fan art by Deviant Art illustrator Byron Bojengles III, so they boosted that sketch's roster by over a dozen at Comic-Con 2012. There's no shortage of devotion on display here, but it's Belle's literary war hammer that wins the day.
You can see further photos at their Facebook page and via photographer Caesar Vivid.
Related: Their potential nemeses and Street Fighter Disney?