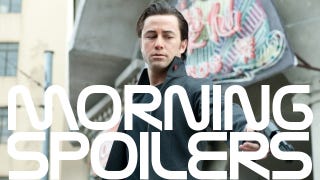 Just what is the new Star Trek movie going to be called? The Wolverine adds a new villain. Get a fresh look at Iron Man's latest suit of armor. A new Dark Knight Rises clip spotlights new costars Joseph Gordon-Levitt and Anne Hathaway. Plus Hellboy 3 might just happen after all!
Spoilers from here on out!
Top image from Looper.
The Dark Knight Rises
This is potentially a massive, massive spoiler, so you may well just want to skip right ahead to the Man of Steel section and just pretend this doesn't exist. OK, for those sticking around, talk show host David Letterman revealed during an interview with star Anne Hathaway that he had seen the film, and that Batman dies at the end of the movie. This is something that has been heavily rumored, and screenwriter David Goyer has occasionally said things that seem to lend credence to it — but even so, it's still nothing more than rumor and speculation.
After a particularly awkward silence, Letterman and Hathaway tried to brush off the moment as just a rather bizarre joke, and it's certainly possible — this is just the sort of thing a cantankerous old crank like Letterman would do to mess with people. On the other hand, it's also completely reasonable to think Letterman would just straight up spoil the ending of one of the biggest movies of 2012, because that's also the sort of thing a cantankerous old crank like Letterman would do. You can watch the clip in question at the link and draw your own conclusions. [Latinos Post]
Oh, and the Anne Hathaway interview also featured this new clip in which Joseph Gordon-Levitt's cop character John Blake interrogates Selina Kyle. In the clip, Blake refers to Bruce Wayne as a friend of his, which some are taking as an indication that Blake knows Wayne's secret identity — which seems reasonable, given the context — and that this might mean Blake will become Robin — which seems distinctly less reasonable given how big a leap of logic that is, particularly considering everything Christopher Nolan has ever said on that specific subject.

Speaking of the good director, here's how Christopher Nolan explains the overall writing process for his trilogy:
"I've always thought of this trilogy as Bruce Wayne's story, and every story has a beginning, a middle and an end. The ending is the most important part to me: That's the first thing I had for The Dark Knight Rises. The trick is to know it on a subliminal level — have the idea of it — but not write it down and make it concrete until you're ready. I've had the great luxury of working on these movies for nine years and letting things grow naturally, knowing the feeling of what I was going for but allowing the narrative to come into focus over time. You have to live your way through stories in order to discover what they are. I wasn't already planning for this movie when we were making Batman Begins, because I'm superstitious. But I was always hopeful I'd get to tell the whole thing."
He also discusses the very grim, very dark stretch of the film in which Gotham City is ruled by Bane and his thugs, and his description might explain the recent revelation that Charles Dickens's A Tale of Two Cities was a key influence on the film:
"That was very much at the forefront of our thoughts: How far do we want to take things? It was a long and torturous process to get that right. There are ways we offset the bleakness of the story. For example, we don't go to a post-apocalyptic place, like Mad Max did. We drew more on the French Revolution and the Russian Revolution, which gives the movie more of a feeling of a historical epic. But ultimately, we're testing the characters in this movie, and we're also testing the audience's relationship to them. You want to mine the depths of despair and push the story to an extreme place, so the heroic figure of Batman is needed more than he has ever been needed. His symbol achieves an even greater stature."
There's more at the link. [Miami Herald]
---
Man of Steel
Here's a teaser poster to accompany the recently screened footage. [Spinoff Online]