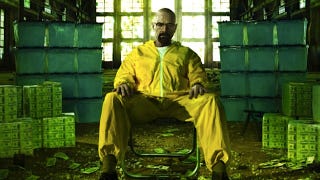 Tomorrow, the acclaimed "high school chemistry teacher turned meth kingpin" drama Breaking Bad returns for its final stretch of episodes. But at the San Diego Comic-Con today, the show's cast and creator Vince Gilligan were on hand to answer io9's most quasi-pressing questions. Here's what we learned.
1.) To get in the mind of Walter White, Bryan Cranston visited the Department of Chemistry at the University of Southern California and learned about the proper erlenmeyer flasks to use should one decide to cook methamphetamine. (Also for the sake of televisual veracity, Cranston received tutelage in which glassware will explode if used incorrectly. The rules of laboratory safety still apply in taut 60-minute dramas.)
2.) In the next season, we will see more of Walt using his scientific know-how for nefarious deeds:
io9: One of Walt's secret weapons is his background in chemistry. Will we see any of his "dark chemistry" lessons?

Vince Gilligan: Walt is kind of the anti-MacGyver. You will see a couple more of these moments later this season. Those are fun to come up with. I am no chemist or scientist, but I have a layperson's love for science.

io9: Do you have a scientific advisor on set?

Vince Gilligan: Not on set, but Dr. Donna Nelson from the University of Oklahoma approached us several seasons back and said, "I really like this show, and if you ever need help with the chemistry, I'd love to lend a hand. She's been a wonderful advisor. We get help wherever we need it, whether it's chemistry, electrical engineering, or physics. We try to get everything correct. There's no full-time [advisor] on set, but we run certain scenes by these experts first.