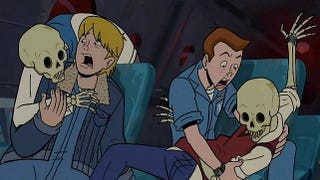 At Comic-Con, Doc Hammer and Jackson Publick — the grand poobahs behind the Adult Swim series The Venture Bros. — were on hand for 5% hard fact, 95% mirthful digression.
The guys announced that the cartoon will be returning with its fifth season in early 2013, a Halloween special this autumn, and a one-hour episode to bridge Seasons Five and Six. Aziz Ansari, John Hodgman, Gillian Jacobs, Paget Brewster, and Tim Meadows will also provide voices for the fifth season, and J.K. Simmons will lend his commanding pipes to the All Hallows' Eve episode.
Once those details were revealed, the duo moved on to the press roundtables, where — as in past years — the oral history of nothing in particular unfolded with gusto. Here's what we learned?