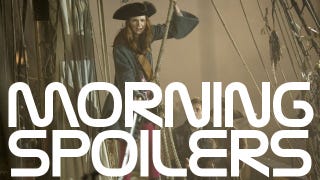 Joel Kinnaman reveals the intense training that goes into being the new Robocop. Check out the new, young Q in Skyfall. Will Smith has decided it's time to get biblical. Plus Teen Wolf is never going away!
Click on, for all your non-SDCC spoiler needs!
Top image from Doctor Who.
Thor 2
Casino Royale villain Mads Mikkelsen, who previously proved his Viking warrior bona fides in Valhalla Rising, has had to bow out as the villain in the Thor sequel due to his commitments to Bryan Fuller's Hannibal Lecter prequel show for NBC. Mikkelsen explains the decision in the clip below. I'd say this is a bummer, since Mikkelsen is pretty damn awesome at playing Vikings and villains, so a Viking villain would seem right in his wheelhouse, but then we still don't even officially know what his role in the movie was actually supposed to be. There's also no word yet on who might replace him in the role. [The Playlist]

---
Fantastic Four
This has been confirmed and then unconfirmed before, but maybe this time it will stick. Once again, Chronicle director Josh Trank is reportedly directing 20th Century Fox's attempt to reboot the Fantastic Four franchise. He's reportedly still also attached to Sony's planned Venom spin-off movie, despite the fact that whenever Trank himself is asked about this he seems to pour cold water on the rumors. So, your guess is as good as mine regarding whether this is actually true or not. [Deadline]