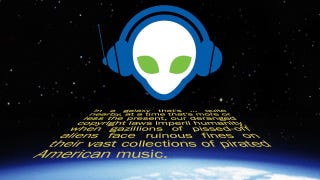 Rob Reid started Rhapsody, a music service, back during the Napster era. So he obviously knows and cares a lot about electronic music, and the madness of the record industry. This comes through, often hilariously, in his new novel Year Zero, in which aliens discover they've been pirating so much of our music, they owe us all their wealth.
Year Zero is being compared to Hitchhiker's Guide to the Galaxy, which isn't really a fair comparison at all. It's more like a goofy science fiction spoof along the lines of A. Lee Martinez — and there's absolutely nothing wrong with that. The book becomes noticeably cleverer, and more entertaining, on those occasions where it wades into the lunacy of the music industry, its symbiotic relationship with Washington, and the complete brain-deadness of copyright law.
Spoilers ahead...
We ran the book trailer for Year Zero a while back, and it explains the plot pretty well. In a nutshell, the universe is full of advanced civilizations, which belong to something called the Refined League — and when they discovered Earth music in the late 1970s, they became obsessed with it, collecting every bit of Earth music they could find. They spent a few decades listening to every single bit of pop music recorded on Earth, in total ecstasy, until they realized that they owed us untold zillions of dollars in penalties for pirating our music under our insanely strict anti-piracy laws. Now it's up to an attorney named Nick to figure out a solution, before some aliens decide to destroy the Earth to get out of owing us all that money.