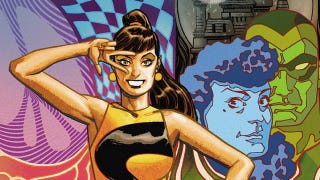 It was The Day Before Comic-Con, a hallowed, solemn time when us media types en route to the DEFCON 1 clusterfuck brewing in San Diego genuflect before our Spawn action figures and Jim Lee-autographed copies of X-Men #1. (On my copy, Wolverine is wearing a scribbled-in top hat, tilted at a rakish angle.)
I was busy festooning my sitting room with popcorn-and-jellybean-bedazzled issues of the Death of Superman, when I heard a mighty thump come from the kitchen. This sudden din was followed by a spate of profanity in an undiscovered language. Perhaps a Lemurian creole? Just who had broken into my home at 5:34 AM?
Editorial Disclaimer: Alan Moore lives in England somewhere, was not consulted for this article whatsoever, and does not possess the supernatural power to teleport down chimneys. This article may have been sponsored by sleep deprivation.
I turned the corner only to discover Alan Moore — chaos magician/the acclaimed author of Watchmen, V For Vendetta, and From Hell (among many other comedy books) — magically emerging through my air conditioning vent. On his foot he wore a thick, supernatural boot, which he had used to supernaturally kick the vent into supernatural scrap aluminum.
"Malan Ore!" I blurted. It was 5:34 AM, after all.
"Where's your chimney? Don't you know I possess the supernatural power to teleport down chimneys?" he huffed.
"Apologies, I just assumed you'd use the door."
"Nonsense," he said. "By transforming my beard into a chariot — not unlike the flying kittens of the Norse goddess Freyja — I traverse the globe every Comic-Con Eve, delivering boons to all those woebegone souls going to San Diego in a professional capacity. I only attended Comic-Con once in 1985, and that was to corral some stray thoughts that had escaped from my grimoire."
"Coo-"
"Shut up and open your boon." He produced a tattered potato sack that carried a whiff of Merlin. I peered inside and discovered an undulating orb of boomslangs. Presumably these were some form of herpetological tribute to Moore's snake-puppet god, Glycon.
"Don't spend them all in one place," he beamed.
"I would've preferred an omnibus edition of Top 10," I said. Top 10 is my favorite Alan Moore comic. Nobody talks about Top 10, as Hollywood has yet to make a shitty movie out of it.