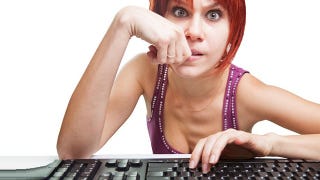 Every time you type an email or a document, errors are likely to creep in — and no matter how carefully you proof read, you might not catch everything. Why do we have such a hard time noticing typos and repeated words?
It turns out this is partly a matter of the way your brain processes text — and partly something that's specific to English and a few other languages.
Top image: Pond5
We've established before that reading is so trained into our culture, we do it instinctively. Sometimes our eyes bounce off a page of dense, boring text without absorbing any content — but for the most part it's almost impossible to look at a word and not read it. In the past, we've shown how deep into our brain reading reaches with the Stroop Effect. The Stroop Effect happens when the words for one color are printed in ink of another color. Asked what color the text is printed in, people will get confused. If the word "green" is printed in blue ink, even though their eyes see blue, their brain thinks "green." It takes people a while to sort it out.