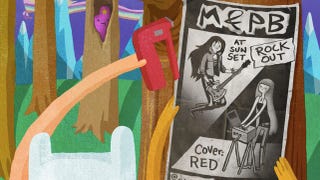 It's Comic-Con this week, and there are, rather fittingly, a ton of new reads on the spinner racks. First off, we have the Adventure Time: Marceline And The Scream Queens miniseries penned and illustrated by Meredith Gran of the webcomic Octopus Pie:
Thanks to a newfound interest in music, Princess Bubblegum joins Marceline's paranormal rock band for a tour across the land of Ooo! But when they're threatened by everything from scenesters to beasts born of self-doubt, can they make it to the RADDEST GIG EVER in time?
For Vertigo, Sean Murphy (Joe The Barbarian) writes and illustrates Punk Rock Jesus, a miniseries about a reality show that clones Jesus Christ. The synopsis:
Religious zealots either love or hate the show, angry politicians worry about its influence on the nation, and members of the scientific community fear the implications of cloning a human being at all - let alone the Son of God. And what effect will this all have on Gwen, the young woman who is selected, through an American Idol-style process, to be the mother of the new Messiah?
From Image comes the chicken espionage series Chew: Secret Agent Poyo and the kaiju invasion one-shot Enormous (cover below, read a preview here). Other first issues on the stands include IDW Publishing's new series based on Battle Beasts and The Crow, the Valiant Comics reboot Bloodshot (preview here), the "Frank Castle in orbit" miniseries Space Punisher, and the resurrected horror series Eerie by David Lapham of Stray Bullets fame.