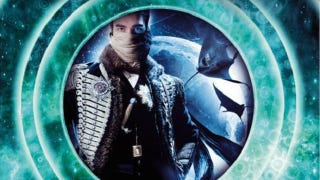 Australia's megastar young adult author Garth Nix excites the imaginations of adults as well as young readers, with his startlingly original world-building. His Abhorsen Chronicles features necromancy vs. technology in a sorta alternate version of World War I. The recently reprinted Shade's Children presents a future where for your fourteenth birthday, instead of a cake, you get turned into a soulless killbot.
And Nix's latest book, A Confusion of Princes, is a fast-paced adventure, aimed at an audience that recent publishing trends may be neglecting. Get ready for explodey action and passion, in a star-spanning Empire. Thrill to sufficiently advanced technology, plus wheels within wheels, and plans within plans. Spoilers ho!
Young adult science fiction is a huge lucrative gateway drug for new genre readers. Unprecedented numbers of teens and adults regularly snap up the latest Post-Apocalyptic Dystopian Romance. This is mostly great — except when it leads to authors cranking out more of the same. Publishers know a good thing when they see it, but they don't bother to look much further. Nearly all YA SF is saturated with cookie-cutter stories of True Love in Ruined Cities or Fuller Domes.
So it's refreshing to see a new YA novel revisiting a different classic science-fictional setting, and with a bit more Blowing Stuff Up.
Nix dedicated A Confusion of Princes to Robert Heinlein and Andre Norton, who wrote the kind of bildungsroman* that inspired so many science fiction fans and authors. It is also heavily inspired by computer games and was developed alongside an MMORPG. Nix described the RPG, Imperial Galaxy, as "... kind of the most expensive and least useful piece of marketing for a book ever done."
You may read more about the game, his background and writing process in this excellent interview.
While quite original, Confusion pleasantly reminded me of my favorite Space Operas — particularly those I will jokingly dub "epaulettepunk". Here we have Byzantine schemes fought with miraculous super-science and age-old cunning, with the fate of the galaxy at stake. Let's hope this novel entices young readers to explore the empires in Bujold's Miles Vorkosigan, Pournelle's CoDominium, and of course Frank Herbert.