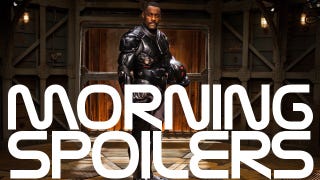 Hugo Weaving reveals secrets of Cloud Atlas. The Dark Knight Rises has an official running time — and it's epic. Chris Pine and Alex Kurtzman reveal what to expect from the Star Trek sequel. Plus a Catching Fire casting update!
Spoilers from here on out!
Top image from Pacific Rim.
The Amazing Spider-Man
Producers Matt Tolmach and Avi Arad discuss the long-term future of their rebooted Spider-Man series. Basically, barring total financial disaster for either this or the sequel, expect at least three movies worth of Andrew Garfield web-slinging:
Tolmach: We knew that it was going to be more than one, and at the very least three. We're going to let this movie tell us what the story is.

Arad: The moment you have Gwen in the movie, you know the story will continue, and not only that but one of the things we were able to really tie into our villain is also the relationship with Gwen, which makes the whole thing so real and complex, how they feel about this guy who has now lost it and Peter now has the responsibility to stop him and save the city.
They also suggest the movies' villains — including potentially Venom, who is still supposedly getting his own spin-off movie — could ultimately be reunited as the Sinister Six, essentially an evil version of how The Avengers united all the previous Marvel Studios superheroes:
Arad: There are so many ways to paint these villains, all of them. As you know, one of the great sagas in the Spider-Man universe is of course the Sinister Six. I think "Avengers" did okay the last time I looked....

So are you suggesting you're going to do five Spider-Man movies introducing each villain and then the sixth movie will have the Sinister Six?
Tolmach: It seems like a good model.
Arad: It all depends on the stories that one wants to tell, because Spider-Man is really more a depth kind of a story, we have to be careful how many villains we can service, because a relationship with a villain has to be such that it's a story on his own. We attempted to do multiple villains—you've been there—you just need screen time to do it.
While it seems pretty unlikely that there will be the half-dozen or so Amazing Spider-Man movies needed to make a Sinister Six happen as they outlined — although they could probably more easily pull off an abridged version where the fourth movie brings back the previous films' main villains, then adds in Venom and a couple of new or previously minor bad guys — that's the sort of ridiculously ambitious plan I've just got to endorse. Anyway, there's more at the link. [Superhero Hype]
Just to complicate what Arad and Tolmach said, the webmaster of the official Sony website just put out this announcement:
The Amazing Spider-Man is the first installment in a movie trilogy that will explore how our fave hero's journey was shaped by the disappearance of his parents.
That might seem to contradict the "at least three movies" statement, but my read is that the plan would be for the first three movies to be dominated by Peter dealing with his parents' legacy, and then any subsequent movies would be about something else. Of course, that's assuming there's going to be more than three movies, or even a complete trilogy, which I wouldn't necessarily say is 100% guaranteed just yet. [Screen Crush]
For those so inclined, you can check out a 15-minute, somewhat spoiler-y video interview with director Marc Webb at the link. [IGN]
---
The Dark Knight Rises
According to the British Board of Film Certification, the British equivalent of the MPAA, Christopher Nolan's final Batman movie clocks in at an epic 164 minutes and 27 seconds, making it considerably longer than both Batman Begins at 140 minutes and The Dark Knight at 153. The BBFC also notes the film "contains moderate violence", which seems like a wonderfully understated way of describing whatever Bane is going to get up to. [via IGN]
---
Star Trek 2
Star Chris Pine explains why he thinks the sequel will be better than its predecessor:
The movie is relentless, and for the visually inclined people who want to see major sequences, there are a couple specifically that I think... I'm not a huge 3-D fan, but I think will be incredible. But what I'm more excited about, and what I think they did so well, is that really the story is that much better, and the journey that these guys go on is that much more, and what they always talked about is that even though they're a crew from what we know about the original team, the fun of getting there is following that journey to where they become that tight-knit crew. It's no fun if they're already a tight-knit crew. So suffice it to say, they're still learning how to get along.
From the same interview, co-writer Alex Kurtzman added this about the continued evolution of the Enterprise crew:
They only really came together as a team at the end of the first movie as a function of story. But the bridge crew from the original series, they aren't those people yet, neither in age nor in experience. So I think the worst mistake that we could have made was to assume that they were there already at the top of the movie and skip that stuff. And the other thing I'll say without revealing too much is that in the first TREK, we made choices—in our invention of the story—that were extremely controversial. Blowing up Vulcan, hugely controversial choice, and we knew that die hard Trekkers were either going to skewer us or accept it based on the emotional architecture around that choice. I think for us, TREK is at its best when it is making hugely bold moves like that, and there will be hugely bold moves in this one.
Meanwhile, former Doctor Who companion Noel Clarke, who plays a "family man" in the sequel, says he spent three months filming it and that he knows what the film is called — but he can't reveal what it is. Still, good to know J.J. Abrams and company have actually picked a title for this thing, even if we're still stuck with the Star Trek 2 placeholder. [Digital Spy]
---
Catching Fire
It would appear yesterday's reports that relative newcomer Zoe Aggeliki had taken the lead for the key new role of Johanna Mason were inaccurate. Instead, it's reportedly her main competitor, Sucker Punch actress Jena Malone, who has reportedly now won out and is now in early negotiations to take on the part officially. [Heat Vision]
---
Pacific Rim
Here's our first look at Sons of Anarchy star Charlie Hunnam and Babel's Rinko Kikuchi in the armored suits they wear when piloting their monster-fighting robots, much along the same lines as what we saw costar Idris Elba wearing in the first officially released photo. This is a scan from the latest Entertainment Weekly, hence the crease in the image. A more official, higher quality version is likely to follow soon enough. [Shock Till You Drop]