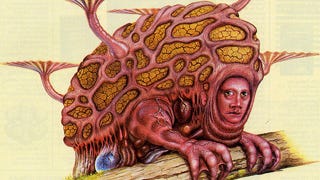 When science fiction writers and futurists imagine humans of the far future, they never think our descendants are going to look exactly the same as we do now. After all, we'll have access to powerful tools to turn us into cyborgs and hack our DNA, so there's no limit to how we could reinvent ourselves.
But just how weird could our progeny become? Here are 10 of the absolute strangest visions of our post-human future.
Top illustration drawn by Dougal Dixon and taken from a 1980s issue of Omni Magazine about what humans might look like in 50 million years.
1. Voluntary devolution
What better way to start a top 10 list of the weirdest visions for humanity than by considering the possibility that we take a massive step backwards rather than forward? Voluntary devolution is the idea that we should re-engineer the human species to the point where we're no longer advanced enough to be considered human. The basic premise here is that humans basically suck, and we should take it upon ourselves to regress, from an evolutionary standpoint, to a state of harmlessness. By becoming pre-civilizational, we would stop being a threat to ourselves, the animal kingdom, and the planet itself. This perspective could be interpreted as a kind of oxymoronic uber-Luddism, where progress is measured not by the increase and refinement of human capacities, but instead by its regression. The ultimate goal would be the end of civilization and our return to the jungle.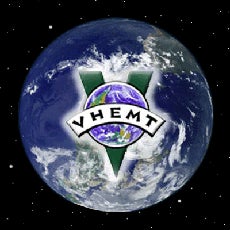 2. Voluntary human extinction
But why stop there when you can eliminate the human species altogether — and better yet, do it in such a way that everybody buys into it? Such is the goal of the Voluntary Human Extinction Movement (VHEMT), an activist movement that is actively working to phase out the human species, by asking us (very politely) to stop breeding. Armed with the slogan, "May we live long and die out," VHEMT's eventual goal is to return the Earth to its natural, healthy state. With humanity gone, all the remaining creatures on Earth could be free to live, die, and evolve on their own. Adherents of the voluntary human extinction model maintain that they're not misanthropic, they're just providing an "encouraging alternative to the callous exploitation and wholesale destruction of Earth's ecology."
3. The rise of the eco-human
Some environmentally conscious futurists aren't content to see humanity devolve or wither away into extinction — but they're also not convinced of our ability to address climate change and other ecological disasters. The solution to such problems, they argue, is to have humans voluntarily modify ourselves, to better live in harmony with the planet. In a paper titled "Human Engineering and Climate Change," philosophers S. Matthew Liao, Anders Sandberg, and Rebecca Roache make the case that humans should resort to such measures as pharmacologically induced meat intolerance (since meat production is exceptionally hard on the environment), genetically engineering cat-eyes to reduce our need for lighting, and reducing our physical size to lessen our ecological footprint (they recommend a 21% reduction in body mass for men, and 25% for women). They're also hoping to see us increase our will-power, which they argue will have the peripheral effect of improving our feelings of empathy and altruism.
4. Transgenic humans
But, why limit ourselves to adding a few new traits, when we can borrow wholesale from the animal kingdom? Transgenic technologies, which allow for the genetic intermingling of human and animal characteristics, could allow for a nearly endless array of human-animal hybrids. There's plenty to envy among our non-human friends, too: Dogs hear and smell much better than we do, cats can see in the dark, some primates have better memorization skills than us, and birds have remarkably strong vision. Looking ahead to the day when we can apply transgenic modifications to ourselves, many would-be transhumans would like to acquire the eyes of a hawk, the scales of a lizard, or the seaworthiness of cetaceans — imagine being able to swim alongside a pod of bottlenosed dolphins.
5. All brain, and no brawn
This is the classic vision of a humanity that has evolved a massive brain at the expense of its body. In his obscure 1893 story, "The Man of the Year Million," H.G. Wells posited the idea that humanity's dependence on technology will ultimately result in a decreased reliance on the body, and more on the brain. Even the simple knife and fork, argued Wells, would eventually make the human jaw redundant. Modern conveniences like motorised transportation woud result in the withering away of legs, torsos, and practically all muscles — so our descendants would essentially become huge brains that walk around on their hands. But just how realistic is this vision? According to Darwinian principles, physical characteristics will in fact start to disappear if they're not continually reinforced by selectional pressures. The human appendix is a prime example — a classic case of "use it or lose it." As for massive, bulbous craniums like the ones displayed by the Talosians of Star Trek, that's probably unlikely, given that brain size is not correlated with intelligence, and the fact that we're progressively offloading our thinking to external devices. That said, American heads are getting bigger.