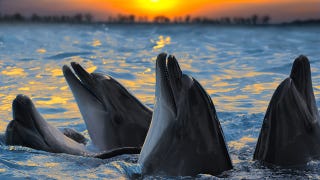 Dolphins are highly intelligent mammals, with an amazing ability to learn to understand our language. But as we gain more insights into their behaviour, we're also coming to suspect that they might have their very own language — or at the very least a complex system for communicating with one another.
A big question facing marine biologists today is whether we'll ever be able to understand what they're actually saying. Thankfully, science could help us to construct a dolphin Rosetta Stone — but it won't be easy.
Dolphins, like humans, devote a considerable portion of its genome to the development of the nervous system — a strong indication that their cognitive capacities are comparable to our own.