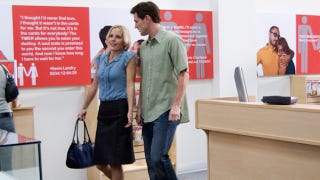 If a computer could pair you up with a perfect mate, would you want its advice? If an artificial intelligence could train you to woo the partner of your dreams, would you seek its wisdom? What if technologies were better at finding and attracting the object of your ideal romance than you were? What if they already are?
Both science fiction and fantasy are filled with stories where people manufacture romantic partners or compel partners to fall in love with them. But what about stories where technologies help you determine whom and how to woo? We look at fictional and actual innovations that try to partner people up — and whether they're successful.
Top image from TiMER.
Data Analysis: Let's start of with the eHarmony approach to romance. The idea is that you gather enough metrics about a person: their background, occupation, interests, values, attitudes, and you match them up with the person whose traits most closely complement their own. But Neil Clark Warren wasn't the first person to envision romance via computer match-up. In fact, in 1966, a company called Match, founded by two Harvard undergrads, promised to match college students with compatible mates based on personality questionnaires. The Match-makers rented a computer at $100 an hour, and processed the 90,000 applications. With computer-assisted dating in its infancy, however, there were a few mistakes. Girls looking for beaux were matched with other girls. Siblings were matched up. At least one co-ed, though, after being matched with an ex-boyfriend, decided to start seeing him again, figuring the computer might be on to something.
Moving into fiction, in Isaac Asimov's 1977 story "True Love," a computer programmer designs a program, Joe, to match him up with his ideal woman. After realizing that creating a list of ideal physical characteristics will get him nowhere, the programmer, Milton, tries to get Joe to match him up with the perfect mate based on his personality. He starts talking to Joe about himself, making Joe understand every aspect his persona. Since Joe is hooked up to a database containing info on all the human beings in the world, he can use the information about Milton to select just the right lady. The system probably works, but by then Joe has incorporated so much of Milton's personality into his programming that he wants that perfect woman all to himself.
Later stories would envision computer-made matches on a larger scale. TiMER (which was recently featured on our list of great science fiction romantic comedies) is deliberately cagey about how its soulmate-identification devices work, but there are references to hormone levels, common interests, physical attraction, and a host of other factors. The TiMER corporation seems to have perfected data analysis for not just whom a person will fall in love with, but also when they are ready to fall deeply in love. In the Society of Ally Condie's Matched series, the government determines everything — your profession, where you live, whom you marry, when you die — according to test, data, and protocol. The Society has an algorithm for matching appropriate male and female partners for marriage, and the truth is, it seems to work quite well. The only hitch in the system is that not everyone gets thrown in for matching, so it's possible that, while you'll get a great match, you might not necessarily get the best match.