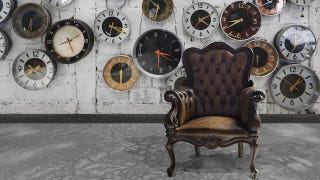 You may have noticed yesterday that io9 — and the rest of the Gawker network — went down for several minutes yesterday. Other sites, including Reddit, 4Chan, LinkedIn, The Pirate Bay, Yelp, and Meetup, had lengthy outages, all at the hands of one tiny unit of time. But how did a single leap second fell these websites?
At midnight Greenwich Mean Time (5pm PT/8pm ET), we added an extra second to our coordinated universal time, the time standard the world uses to determine what time it is. This is to compensate for inconsistencies in the Earth's rotation. This is only the 25th time that we've made such an adjustment since the 1970s, and the first time since 2008. With our ever-changing technological systems, some applications simply weren't properly prepared for the adjustment, resulting in widespread outages.
Edit: In the comments, 99TelepodProblems linked to a helpful article on Wired that notes that many systems use the Network Time Protocol to keep themselves in sync with the world's atomic clocks, which entered the extra second. The Wired piece is definitely worth a read.
This is completely unconnected to last night's outage of sites served by Amazon's Elastic Compute Cloud US East servers (including Netflix, Instagram, Pinterest, and SocialFlow), which were caused by an electrical storm that knocked out the power to those servers. It has just been a weird weekend for the Internet.