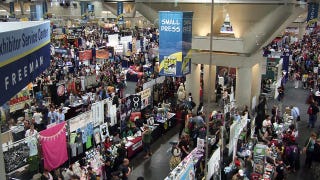 Every year, we hear the complaint that San Diego Comic-Con is less about comics than it is about movies, television, and the spectacle of comics-adjacent media spilling through the San Diego Convention Center. And yet independent cartoonists still flock to San Diego each summer, setting up in Artist's Alley, the small press area, and various dealer's booths hawking their frequently self-published wares. So what keeps some cartoonists coming to SDCC each year as comics vanish from preeminence? And why have others washed their hands of the show?
Photo by jtrummer.
This year has been a particularly difficult year for folks hoping to attend SDCC — be it as an exhibitor or an attendee. The new system for getting badges and hotel rooms was bureaucratic, confusing, and filled with bugs. As for the show itself, it can be expensive to attend between hotel rooms and travel, and it's five long days of work, competing with video game companies, toy booths, traveling apparel shops, and aisles and aisles of free swag.
For some cartoonists, it's just not worth it. Randy Milholland, creator of Something Positive and Super Stupor and a staple of the comic convention circuit, announced over Twitter that he was skipping SDCC this year. He explained, "[B]ooth problems and SDCC revenue hasn't justified the costs/work the last two years."
Danielle Corsetto, who does the immensely popular Girls With Slingshots and makes a sizable percentage of her income from conventions, tends to agree. She attended SDCC for the first time last year when she was able to hop onto a larger table. Although she was pleasantly surprised by the presence of comics on the SDCC floor and she turned a profit, she told us that found it less profitable than smaller shows — and a great deal of work at five days. Ultimately, she found SDCC to be more valuable as an anthropological experience than a business enterprise:
It's nice to have some perspective on SDCC when other cartoonists talk about the show, but... I'd liken it to knowing a bit about art history. Great to have that knowledge for comparison and conversation, but you don't need to make it the focus of your master's degree…. Neither the sales nor the experience are worth the trip for me, and I can afford not to go far easier than I can afford to go.
And perhaps that's the key. For Corsetto, who is as much a household name as anyone in webcomics, SDCC isn't essential.
Kel McDonald of Sorcery 101 makes a point of tabling at SDCC because she feels it's necessary for getting the word out about her comics, and, since she can get a small press table (as opposed to the pricier dealer's tables), she turns a good profit. Similarly, Andy Grossberg, the Chief Creative Officer at the webcomic reading service Comic-Rocket (mentioned last week in our "Sites that Make Your Webcomics Reading Easier" post), feels that exhibiting at SDCC is invaluable for independent cartoonists. He told us: