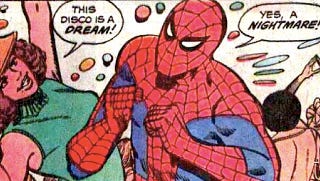 Spider-Man's probably the most anxiety-prone superhero out there, so it's no surprise he's embarked on some endeavors that left readers questioning his emotional well-being. Here are ten times the hero's adventures (and mental health) flew off the rails in wonderfully weird ways.
10. Spider-Man records an album of Elton Johnesque pop music
If you thought Spider-Man: Turn Off The Dark was Spider-Man's musical pinnacle, then you've never heard this Marvel-sanctioned, 1975 rock opera dedicated to the hero.
The album artwork was also a thing of great beauty. Who knew Thor loved jazz? You can listen to most of this album here.
Of course, I still prefer the 1979 German disco track "Spiderman" sung by a fellow who had the retroactive misfortune of being named Peter Griffin.
9. Spider-Man gets a Spider-Buggy
For an extremely brief period in his history, Spider-Man experimented with his own car that was gifted to him by an auto company. To the superhero's credit, he was incredibly dubious of this "Spider-Mobile" in the first place. On the other hand, he did have the poor taste to ride it around town.
8. Spider-Man gets caught up in some metaphysical pablum, evolves gross webshooters
Several years ago, Marvel Comics attempted to give Spider-Man organic web-shooters like the ones he wielded in Sam Raimi's cinematic trilogy. To do so, the publisher forced him into hippity-dippity, mystical circumstances — too complex to elaborate here — in which he evolved these new, synergistic features. And here you thought this superhero was grounded in that staple of hard science fiction, the radioactive spider bite.
7. Spider-Man murders people in Turkey
In the bootleg Turkish crime drama 3 Dev Adam, Spider-Man is a eyebrow-sporting crime lord who executes his enemies with hungry rats and boat propellers who dukes it out with his arch-nemesis Captain America. You may think it's not canon, but Marvel hasn't issued any statements recently noting otherwise. For another time Spider-Man went bonkers overseas, see the time he killed a WWF wrestler with Superman and Batman in India.