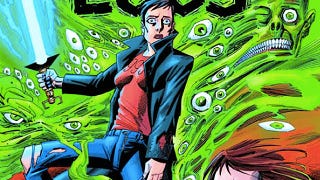 There are a ton of new bizarre reads on the spinner racks this Wednesday. First off, Alan Moore and Kevin O'Neill release the final chapter of League of Extraordinary Gentlemen: Century, 2009, which includes a guest appearance by a certain magical British adolescent:
The magical child whose ominous coming has been foretold for the past century has now been born and has grown up to claim his dreadful heritage. His promised age of unending terror can commence, the world can now be ended, and there is no League, extraordinary or otherwise, to stand in his way. The bitter, intractable war in Q'umar crawls bloodily to its fifth year, away in Kashmir a Sikh terrorist wages a holy war against Islam that must push the world into a nuclear holocaust, and in a London asylum there's a patient who insists she has all the answers.
There are two promising horror books debuting from Dark Horse: BPRD: Hell On Earth - Exorcism (Mike Mignola on scripts, Cameron Stewart on art) and Gilbert Hernandez's Fatima: The Blood Spinners (cover below, "A drug called 'spin' offers the wildest trip imaginable, followed by its users' inevitable, rapid deterioration into undead flesh eaters. Despite the side effect, the drug is so popular that the human population is dying out!"). Mark Millar and John Romita Jr. also pen the new Kick-Ass miniseries Hit-Girl:
This story takes place between Kick-Ass Volumes 1 and 2 as Mindy McCready tries to settle into life as a regular school-girl, but wants nothing more than to be dispensing hot justice to the scum of New York City.
Dan Abnett writes a new science fiction book for BOOM!, The Hypernaturals, and the new Atomic Robo miniseries — Atomic Robo And The Flying She-Devils Of The Pacific — is out to boot. DC Comics releases the fourth Before Watchmen book — Nite Owl by J. Michael Straczynski and Andy Kubert — and IDW publishes a new Magic: The Gathering miniseries, The Spell Thief (preview here).