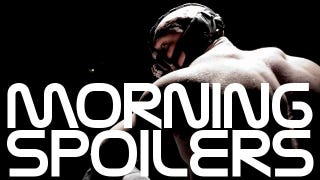 Does a sudden interest in Ant-Man comics mean the movie is at last about to happen? The awesome title of the Doctor Who season premiere is confirmed. Plus updates on Beetlejuice 2 and a pair of British vampire movies!
Spoilers from here on out!
Top image from The Dark Knight Rises.
The Dark Knight Rises
There's some confusion over just who British model-actress India Wadsworth plays in Christopher Nolan's final Batman movie. According to her publicists, it's "The Warlord's Daughter", while her CV lists her role as "Mother." The obvious guess is that she is in some way genealogically connected to Ra's Al Ghul, who is confirmed to be appearing in the film in both a younger Josh Pence version and an older, still alive through the magic of flashbacks Liam Neeson version. While "Warlord's Daughter" might sort of indicate Talia al Ghul, it seems extremely unlikely such a major role would go to somebody we're only just hearing about, particularly since I don't believe she's in any set photos - and besides, I think we've all sort of agreed that Marion Cotillard is really playing Talia. The most likely explanation is that she is Talia's mother and the lost lover of Ra's, although IGN also suggests she could be Bane's mother, which I suppose can't be ruled out. Or there's just some random warlord in this movie, and Wadsworth has a bit part as his daughter. That is certainly also a possibility. [IGN]
If you want to listen to some samples from Hans Zimmer's score, check out the link. [Coming Soon]
---
The Amazing Spider-Man
Here's a TV spot.

Here's Andrew Garfield's official vlog in which he reveals all about the making of the movie. [Comic Book Resources]

And here's an interview with editor Alan Edward Bell in which he discusses his work on the films and what Easter eggs to look out for. [I Am Rogue]

Here's another viral featurette about Oscorp.

Here's the latest batch of promo photos. [Coming Soon]
---
Iron Man 3
Hong Kong actor Andy Lau, best known to Western audiences for his role in House of Flying Daggers, reportedly turned down a role in the movie, one that has been described in one report as a "starring role." In a presumably related note, the movie is currently looking to cast one of the Chinese character roles with "a male actor over the age of 40 with strong English skills." The current contenders for Lau's unknown part are Chen Daoming, who played the Emperor in Hero, and Wu Xiubo, who is best known for his work on the Chinese television drama Before the Dawn. [Want China Times]
---
Ant-Man
All this definitely needs to be taken with a grain of salt, but reportedly four different people have visited the London store Gosh! Comics - which is located near a bunch of studio offices and production companies - asking for any and every Ant-Man comic the store has. Why does this matter? Here's Bleeding Cool's take on their report:
Here's the thing. No one asks for Ant Man comics. Not even, I'm told, when Marvel was still publishing Ant Man comics. Each time the individuals have been asked if it's for the Edgar Wright and Joe Cornish film and they jump back, spooked, asking how they could possibly know...
One of the people who visited the store reportedly asked specifically for issues about the character's "echo time locator" from "the old series." Anyway, it's flimsy, and could turn out to be nothing for a whole bunch of reasons, but certainly one interpretation is that a London-based production company - possibly one responsible for special effects - is busy research Ant-Man in anticipation of starting work soon on the long-awaited movie, which is due to be directed by Hot Fuzz director and well-known Briton Edgar Wright, which may help explain the London connection. (Also, as we saw with Captain America, Marvel Studios has had success filming in the United Kingdom.) Still, I wouldn't read too much into this until we know a bit more. [Bleeding Cool]
---
Kick-Ass 2
There's a few more rumored plot details to add to what we learned yesterday. Specifically, after all the trials and torments Aaron Johnson's Kick-Ass and Chloe Moretz's Hit-Girl go through once their secret identities are revealed to certain people, they still end up coming together - after Kick-Ass/Dave has been "emotionally/physically-brutalized" - to put together some allies for a big "balls to the wall" showdown with Christopher Mintz-Plasse's Red Mist and his super-villain army. [Screen Rant]