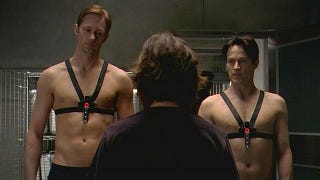 Last night, True Blood used Vampire Lady Business to get to the bottom of — erm well, Vampire Business. Plus we got a new Nan Flanigan, and apparently the Fairies are back. Sorry, everyone! But please, let me break it down to you Pro/Con style. Spoilers ahead...
Pro: Tara looks with her new vampire eyes. I won't be a hater — the vampire vision is cool. Completely and utterly wasted on this character, but still very cool.
Con: Tara gets a fang boner, because of her recently convenient lesbianism. Also because she's a vampire now, so blood.
Con: Back in the Vampire Basement where the meeting of ridiculous vampires is still taking place. Together each member goes round the table and see if their particular accent can-out ridiculous the other. We are the losers.
Is anyone else horribly disappointed by the big Authority reveal? These figures have been lingering in the shadows for years on this series. And finally now, in the 5th season, the majestic faces of the vampire law have been revealed... and this is it? A board room of strange stereotypes, a collection of silver jails, and magical silver IV torture devices that only lasting impact appear to be moments of pained faces and gurgle screams. I'm not feeling this clan of vamps just yet. Christopher Heyerdahl is exempt from this on delivery alone, but others... let's stop talking about the True Death and start dealing it out. True Death for you! True Death for you!
Con: Meloni has now been on True Blood for two episodes, and he hasn't killed or sexed anything. Also, he is STILL talking about Vampire Politics for Dummies? Russell Edgington is the Sanguinista's Osama Bin Laden? LOL Ok. Any hope we had about this whole "Rick Santorum Fundamentalist" issue being handled artistically was just flushed down the toilet with my "Tara could still be dead" fantasies that I was desperately clinging on to. Oof and Woof.
Pro: Rev. Steve Newlin is the "new" Nan Flanigan. Now that's more like it.
Pro: I love how Meloni just says "send in the new Nan Flanigan." This show has completely given up on including any new viewers, hasn't it?
Pro: Pam is Vampire Texting! Aw. Memories.