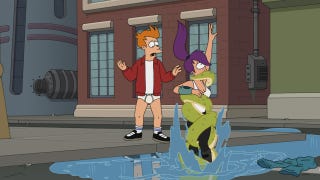 Futurama season seven started off with two new episodes, full of the series' unique mixture of sappy moments and cold-blooded mayhem. Find out what happens when Bender procreates (a second time), and when Fry and Leela have to find a way to meet each other half-way.
Spoilers ahead...
The Bots and the Bees
As we said in yesterday's crash course in Futurama-ology, Bender has always been the heartless, immoral one of the group — so it takes a lot to construct an episode in which we see any heart in him.