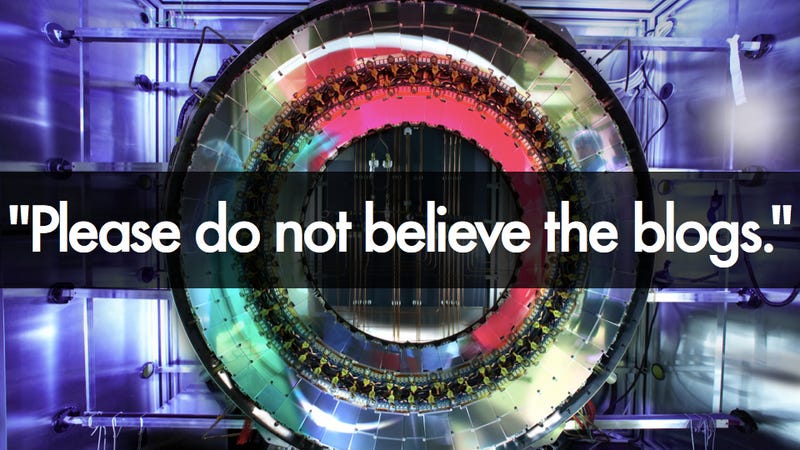 The internet is beside itself with rumors that the long-sought Higgs Boson has been found — but a representative from one of the teams searching for the so-called "God Particle" says to chill the frak out. So what's going on here? Are researchers waiting for an international physics conference in July to make their big reveal, or has the rumor mill gone out of control?
The latest surge in Higgs rumors began three days ago with this blog post (titled, ever-so-subtly, "The Higgs Discovery") by mathematician Peter Woit. The post is full of speculation over a brand new batch of Higgs data, currently being analyzed around the clock in preparation for the International Conference on High Energy Physics (ICHEP) scheduled to kick off in Melbourne, Australia on July 4th.
"Exactly how much data they'll have analyzed by ICHEP and exactly what the significance of the signal in the gamma-gamma channel will be... is still to be seen," writes Wolt. "The bottom line though is now clear: there's something there which looks like a Higgs is supposed to look. Attention will soon move to seeing if this signal is exactly what the [Standard Model] predicts." Wolt's post has unleashed the floodgates of the physics blogosphere (warning: here be loads of particle physics jargon).
So what is a Higgs supposed to "look" like, anyway? According to data released last December by the Large Hadron Collider's two largest experiments (ATLAS and CMS), a lightweight particle in the region of 125 gigaelectronvolts, which is another way of saying that if the Higgs does exist, it's about 125 times the mass of a proton.