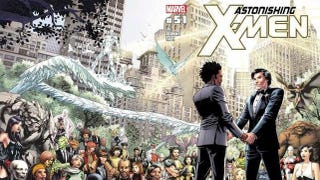 What new series are hitting comic shops tomorrow? Mike Mignola also pens a new story about the vampire hunter Baltimore, Dr. Leskovar's Remedy. ("An army of malformed vampires controls a small Croatian town, but Lord Henry Baltimore arrives to put an end to this madness, fighting his way to their creator-a twisted surgeon akin to Moreau and Mengele!")
The third Before Watchmen miniseries hits stands to boot, with Brian Azzarello and J.G. Jones' take on The Comedian.
What else is in the grab bag? There are new issues of Chew, Catwoman (preview here), Star Wars: Dawn Of The Jedi - Force Storm, Unwritten, Fables, Batwoman, Adventure Time, Daredevil, Punisher, Saga, Dark Horse Presents, Walking Dead, Avengers Vs. X-Men, and Casanova: Avaritia.