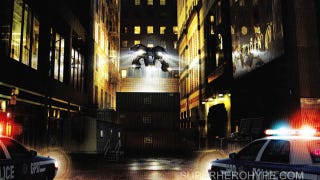 The coolest new vehicle in Christopher Nolan's new Batman film is probably the new Batplane, which has been renamed simply the Bat. That's the vehicle that Batman tells Catwoman is not a car, just before he takes to the skies and dodges two missiles, in some of the recent Dark Knight Rises trailers — and here's some concept art of it. Nice to see it maneuvering in a tight alley, with two cop cars in pursuit.
Superhero Hype got hold of some new Dark Knight Rises concept art, from a new book entitled The Dark Knight Manual: Tools, Weapons, Vehicles & Documents From The Batcave by Brandon T. Snider.
Here's one more piece of concept art, showing the features of the Bat — including dual-anchored machine guns, strictly as a deterrent. Those machine guns are purely to freak people out — Batman is not going to be machine-gunning people in the streets — he's over that phase now. Oh, and an EMP cannon, to take out all electronics, which you just never know when you'll need one of those.