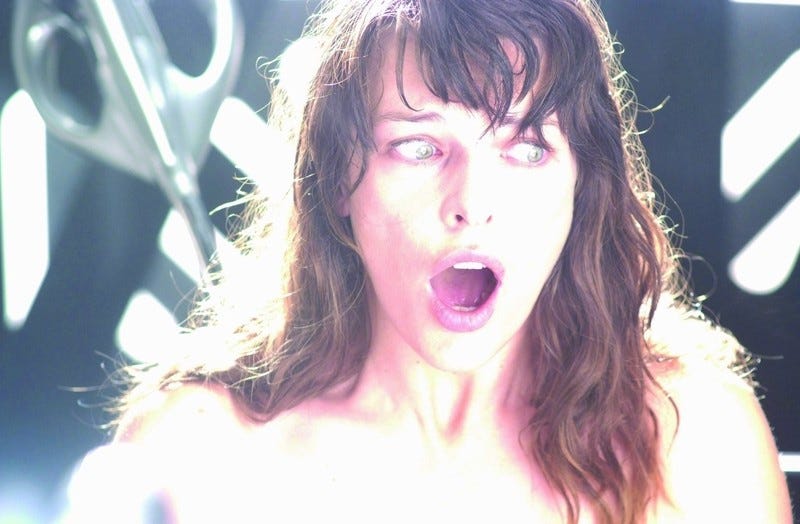 The biggest question about aliens isn't whether they'll overwhelm us with their superior technology, and subdue the human population. The biggest question is: Why? What could they possibly want from us that they can't get anywhere else? Most of the resources on Earth are available in space, where they're easier to get at, without any pesky gravity well. But the biggest resource that aliens probably couldn't find anywhere but on Earth is... us.
Here are 10 parts of your body that aliens might find it worthwhile to come to Earth and plunder.
Top image: Milla Jovovich in The Fourth Kind.
10. Hair
This tops this list because, honestly, let's hope they're after us for our hair. It's renewable, it requires a certain level of health to be at its best quality — and we don't die when it's harvested. Let's take a look at the facts. Most people agree that mammals were one comet shy of never getting big at all. Who said that anything like us has to exist on other planets? Anyone see any hair on ET, or the creatures from Signs? Your hair keeps forever, but can be reprocessed to provide amino acids for foods like soy sauce and pizza dough. Hair sops up oil at a phenomenal rate. It can be woven together as durable cloth, or placed on farm land as special fertilizer. It even has special optical properties. We could be conquered by terrifying aliens and left expecting the worst — only to be shorn like sheep every year.
9. Poop
This one is slightly less pleasant than hair because we might have to come along with the poop. That would not be a pleasant experience. It's also a long shot. Most species produce their own excrement, and don't need to harvest that of other species, but it's possible that the aliens take in and emit a series of gases, and if that's the case, they might need someone else's poop. Why? Space is full of high-energy radiation that shoots through metal. The contents of a space ship can be shielded by a high electromagnetic field, but that raises other major problems. Layers and layers of dense organic material, on the other hand, absorb a lot of that radiation.
Present-day space agencies already have considered the idea that astronauts on long-haul voyages could line the walls of their spaceships with their food on the way to wherever they're going, and line the walls with their poop (properly packaged, of course) on the way back. Such agencies also mention that it could, with enough work, be possible to process that poop until it become edible again. It's then possible to feed those processed patties to the astronauts, who will then poop them out, and then it's back to the wall. I think at this point it's easy to see why we would rather have the aliens take our hair.
8. Tooth Enamel
When you travel through space, you want to keep your energy down and you want to keep your visibility up. You have to do both of these with material that's either self-repairing or extremely tough. Tooth enamel is the latter. Why would it help any creatures that are floating through the galaxy? Because it glows a bright fluorescent green under UV light. I'm not saying that it's the most important thing in an alien's ship. However, marking out instruments with tooth enamel will be an easy way to read when traversing the skies. So don't be surprised when aliens show up and start pulling out your teeth, and then leave you toothless but alive.
7. Hormones
There's no guarantee that life on other planets will be that different from life on Earth. There are theories that life on this planet emerged from microbial life that came here as debris from other planets. That means that we could, growing from the same building blocks and perhaps exposed to similar conditions, have certain things in common. On this planet we harvest things like hormones for birth control from other creatures. Maybe someday aliens will find that our human hormones prevent them from releasing their eggs into their ancestral spawning waters. Or that, when they latch on to the heads of other creatures and stick tentacles down their throats, they only inject them with a parasite if they feel ready to make a commitment.