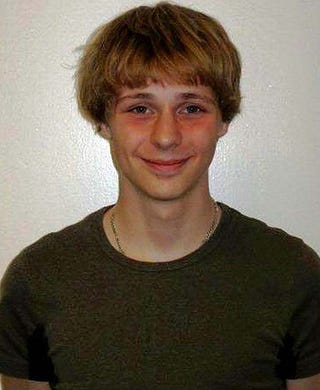 Do you know or recognize Ray? The teenage boy turned up in Berlin nine months ago claiming to know little about himself beyond his name and birthday (June 20, 1994). When pressed to divulge more about himself and his history, he claims he is unable to remember. Now, after close to a year of investigation, Berlin police have released this photo in hopes of identifying him. From The Guardian:
The teenager, who has been nicknamed the "forest boy", was discovered nine months ago when he turned up at Berlin's town hall carrying a rucksack and tent and saying he had walked for five days to get to Berlin. Calling himself Ray, he said both his parents were dead. The youth said his mother, Doreen, had been killed in a car accident, and that he had lived wild with his father, Ryan, in a German forest until his death last August.

Speaking English, Ray, who is believed to be 17, told authorities that he had buried his father before following his instructions to "walk north until you reach civilisation and then ask for help". He does not know where his father died. He says he was born on 20 June 1994, but otherwise knows nothing about his identity. He wears an amulet bearing the initials D and R – believed to be those of his parents – around his neck. While he speaks English, experts who have heard his voice do not think it is his mother tongue.

Police are now hoping their international appeal for information will help to identify him, saying they have doubts about many aspects of his story.
Disappearing off the grid is one thing, but appearing out of nowhere? That's a bit more unusual. Continue reading at The Guardian.