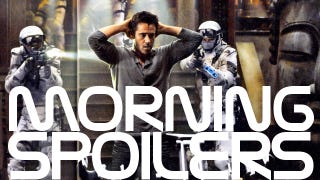 Total Recall director Len Wiseman explains why his reboot isn't just copying the original. Tim Burton discusses the weird kids of Frankenweenie. Tom Cruise starts filming Oblivion. A Next Generation legend joins Warehouse 13. Plus a new Abraham Lincoln: Vampire Hunter clip!
Spoilers from here on out!
Top image from Total Recall.
The Amazing Spider-Man
Here are the latest TV spot and clip.

Here's the latest poster spotlighting Spider-Man and Gwen Stacy. [Den of Geek]
---
Catching Fire
The Hunger Games sequel has set an official IMAX release date of November 22, 2013, which just happens to be the 50th anniversary of the Kennedy assassination. I'm going to go ahead and assume those two facts aren't actually related. [Shock Till You Drop]
---
Total Recall
Director Len Wiseman explains why he changed the setting, sci-fi elements, and casting choices that shaped Paul Verhoeven's movie:
"It does ground it a bit more than taking off to a different planet. I find it a bit more relatable. We don't have any creatures because we don't go to Mars, but that's one of the reasons I wanted to build the synthetics [androids]. I still wanted to make sure there were elements in this world that we haven't seen before." Aware that purists may be upset with the plot adjustments, Wiseman says, "The [RECALL] script came to me, out of the blue, and I was just taken by the direction that it went in. Of course, there's going to be a side that says, 'Why even do it, if it's going to be that much different?' The other group says, 'If there's nothing new, nothing original, why bother?' With all of that out there, I just very selfishly make the movie for myself, and hopefully other people like it....Colin [Farrell] was first choice for me, because I was trying to bring across a certain tone. The film with Arnold (Schwarzenegger) had its own type and tone, and I really was not looking to do a better photographed version of that, or simply update the visual effects."
Meanwhile, Breaking Bad megastar Bryan Cranston talks more about how he approached the rebooted version of the villainous Cohaagen, expanding on what he told us yesterday: