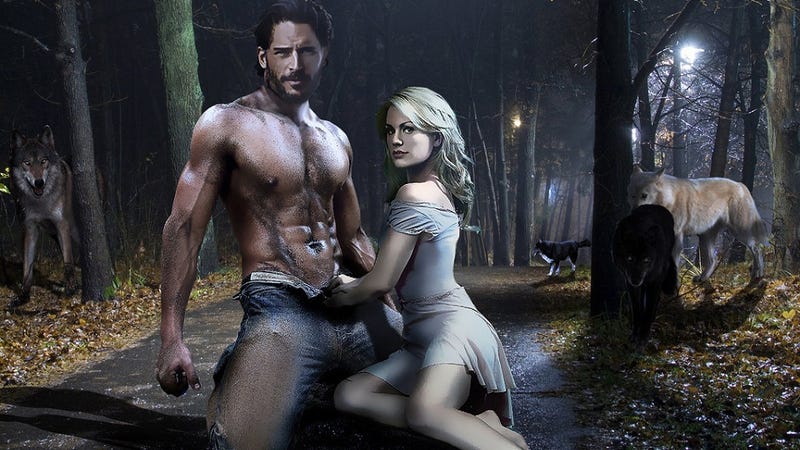 We often tend to think that the best era for trash culture was sometime in the middle of the Twentieth Century. An era where there were a lot of 25 cent paperbacks with gun-toting lesbians on their covers, plus drive-in movies, stag films, cheap comics and weird burlesque shows. And so on. But actually, the pinnacle of trash culture is right now. We're living in the best era for pulpy disposable culture right at this moment. Future generations will look back on the early 2010s with a caustic, adoring envy.
Why is 2012 the best time ever to love pulp trash? Because we're witnessing two things: the death spasms of old media, and the unruly birth of new media, at the same time. And both of these phenomena are unloading huge bounties of trash. You're lucky to be alive at a time like this.
Top image: Team Alcide by ~PowlaM on Deviant Art
Actually, I'm tempted to say that you only need two words to explain why today is the pinnacle of trash culture: "reality TV." The makers of Lost, Lonely and Vicious could not even have imagined Bad Girls Club or Jersey Shore. Or Bridezillas, or any of a million other weird shows that are on extended cable.
But really, the rise of reality TV is just one aspect of many, that signify the dawn of a new golden era in beautiful trash.
Old Media Peaking and Going Crazy
The past decade or so has seen the rise of major corporate-funded culture to never-before-seen excesses. There are more huge-budget movies per year than ever before. More books seem to be getting multi-million-dollar advances, although I can't find any data on that. There are now TV pilots that cost tens of millions of dollars. And so on. And yet, the wave is clearly cresting — Hollywood's total box office, in real dollars, peaked a few years ago. And traditional publishing is facing some major, possibly insurmountable, challenges. The broadcast TV networks are losing ground. And so on.
That means one thing: this is probably the only era in which it'll be possible to have multiple movies, costing over $150 million, which everybody involved cheerfully admits had no script during large chunks of filming. (Off the top of my head, both Iron Man movies and Men in Black 3 had no scripts to speak of, during at least some of their filming.) This kind of thing can't go on forever.
Meanwhile, we have five broadcast networks, which is the most we've ever had. And at least two of them seem constantly on the verge of melting down, while throwing increasingly weird and trashy shows at audiences in a vain effort to stave off the inevitable.
Advertising-supported television and movie theaters are two business models with an expiration date — and the end is probably nearer than anybody wants to admit. You'll see the day when nobody pays for overpriced popcorn, and big companies no longer splash out on commercials that everybody fast-forwards past, probably in the next decade or two. And both these business models are going to go out with a technicolor scream.
And then there are cable TV and direct-to-DVD movies. Neither of these is a particularly new phenomenon — if you substitute "direct to VHS" for "direct to DVD," then they both go back to the 1980s. But cable TV is giving us some amazing bounty right now, from American Horror Story to True Blood — and even though Game of Thrones has a lot of high-culture aspirations, it also fits in perfectly with the trashtastic aesthetic of director Neil Marshall, who just helmed an episode.
We have Syfy Original Movies like Jersey Shore Shark Attack and Piranhaconda, almost every week! Seriously, doesn't that count for a lot?
And then there's porn. Porn has been a great source of trash culture forever — but in the past couple of decades, the internet has made Rule 34 as absolute as the Law of Gravity. Weird, unseemly porn is everywhere. And over the past decade or so, the internet has also changed conventional porn movies in a way that might turn out to be as significant as the rise of the VCR in the 1980s: You can now download whole porn movies instead of having to go buy or rent a DVD, and people can use the internet to promote their weird porn movies to niche audiences, whereas before they had to advertise in adult magazines or what not. All of this spells just one thing: full-length Flintstones porn movies. (Seriously, I googled "Flintstones XXX" without knowing for sure that such a thing existed, and there it was. Starring Peter O'Tool.)
All in all, there is more corporate-funded trash being unleashed on the public than ever before... and meanwhile, there's a huge wave of new-media trash coming as well.
The New Pulps
A while back, we were wondering where the new pulp media was going to come from — but it's becoming increasingly obvious now. It's e-books. It's webseries. It's books aimed at younger readers. It's video on demand and iPhone games.