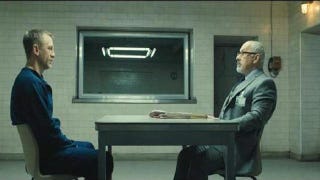 In the trailer for Skyfall, the new James Bond movie, 007 sits in an interrogation room blurting out answers to a word-association test, while his superiors gravely watch. What psychological insights do these people hope to gain from this — other than finding the limits of Bond's patience?
Find out the rationale behind these word tests, and what they can actually show us about your psyche, below.
By now we've all seen the Skyfall trailer, where Bond meets Jung. Word association tests are great for drama, because they allow for wonderful revealing hints to be dropped, they can come with long pauses that build tension, and they themselves can build to a dramatic conclusion. All of these things happen in this particular trailer. The response to every word seems to emphasize that Bond is a friggin' bad ass.