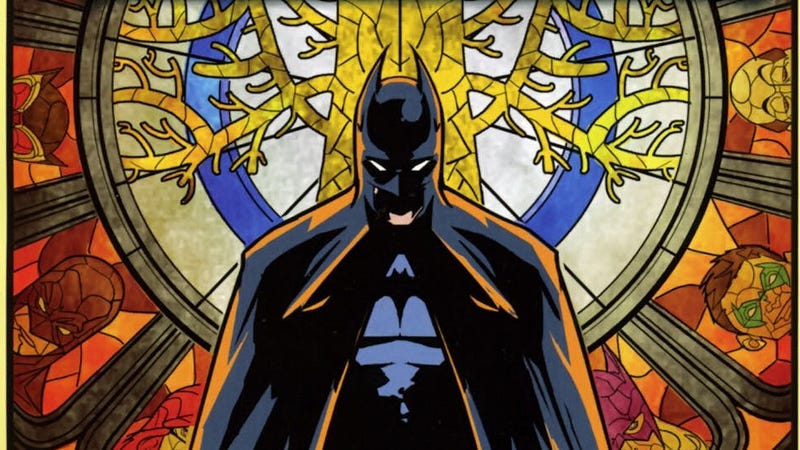 Christopher Nolan's third and final Batman film comes out next month, and we've been promised an epic climax. But what will actually happen to the Dark Knight in The Dark Knight Rises? Batman expert Will Brooker, author of the new book Hunting the Dark Knight: 21st Century Batman, has studied the trailers and viral marketing, and he's noticed some shout-outs to certain key Batman comics.
Here are six major Batman comics that Nolan seems to be drawing on — and the clues they provide about what happens to Bruce Wayne in Nolan's final Bat-film.
Top image: Cover detail of Batman: Gates of Gotham.
1. Gates of Gotham (Scott Snyder, Kyle Higgins, Trevor McCarthy, 2011)
Nolan and screenwriter David S. Goyer freely admit that key moments in Batman Begins and The Dark Knight were adapted from classic comics and graphic novels of the last thirty years, particularly Frank Miller's Year One and Loeb and Sale's The Long Halloween and Dark Victory.
One shot from the Dark Knight Rises trailer clues eagle-eyed viewers into the more recent source material Nolan and Goyer are using for the third movie in the trilogy.
Recognise those exploding bridges? They're from Gates of Gotham, a 2011 series written by Scott Snyder.
Gates of Gotham is a Batman story, but this Dark Knight isn't Bruce Wayne; it's his former sidekick Dick 'Robin' Grayson. If Nolan wants to show a younger man taking on the Caped Crusader's cowl, he's got a model for it right here — and it looks like he's been reading this story closely.
There are other reasons why Gates of Gotham would grab Nolan's attention. Its central plot conceit has two brothers changing their names, and their descendant taking on a fake persona to conceal his heritage. Nolan's movies are conjuring tricks, built around doubles, twins, dual identities and last-minute reversals; this kind of twist is just his style.
We know that Dark Knight Rises, like Batman Begins, Memento and Inception, flashes back to the past to help explain the present, so Scott Snyder's tale of false identities may provide further inspiration for its plot dynamics. Batman Begins saw Liam Neeson cast as 'Henri Ducard', and only revealed as Ra's al Ghul in a third-act switcheroo; is Nolan really going to cast another of his favourite Inception actors, Marion Cotillard, as a no-mark minor character called 'Miranda Tate', or could she be Ra's al Ghul's daughter, Talia?
2. The Dark Knight Returns (Frank Miller, Klaus Janson, Lynn Varley, 1986)
Batman Begins owed two of its most memorable scenes -– the young Bruce's tumble into the Bat-Cave, and Batman's trick of hanging a perp upside-down over the city -– to Frank Miller's 1986 epic, The Dark Knight Returns.
The most recent Dark Knight Rises footage, revealed at the MTV Movie Awards on 4th June, shows that Nolan is quoting directly from Miller again. A veteran cop, recognising Batman, grins to his rookie colleague that they're in for a show; that sequence was storyboarded in the comics, back in 1986.