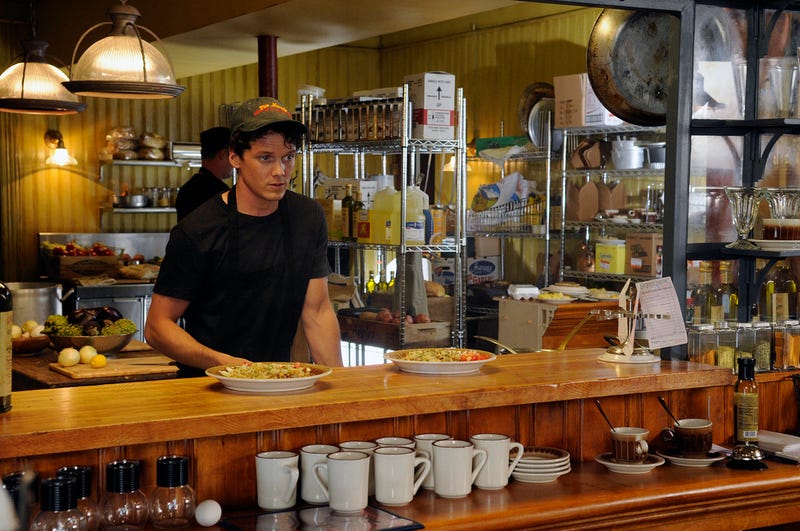 The movie version of Dean Koontz's Odd Thomas is done, Koontz tells io9. He's actually seen the finished film, and he told us what he thinks of it. Koontz also talked to us about the prospects for a TV show based on his Frankenstein series, and what's next for Odd Thomas. Plus Koontz has a new novel in the works based on an idea told to him by a long-dead author. Really.
Odd Thomas set photos by set designer Naython Vane, via Livejournal
We were extremely lucky to get to speak with Koontz by telephone the other day, and he shared a lot about his current and upcoming projects. Here's what he told us about the Odd Thomas movie, which stars Anton Yelchin (Star Trek) as Odd:
I have pretty much given up on Hollywood and the whole idea of movies, because they never got what I did properly. And so I told my attorney, "When somebody calls and says, 'Are the rights to that book available?', Don't say yes or no. Call me up and tell me who they are, and I'll think about it." And about a year after he did that, he called me up one day and said Stephen Sommers is interested in Odd Thomas. And I said, "Hmm, I'll talk to him." Because he has done cross genre work in The Mummy and The Mummy Returns. And he might understand what has to be saved and what doesn't have to be saved in an adaptation.

And sure enough, he's done a brilliant job. He wrote the best screenplay I've ever read — not just of my stuff, but of anything. I've seen the finished film. I never expected I would say happily, "I love the movie." I usually call up everybody I've met all my life and apologize for my relation with the film, but in this case, he's done a wonderful job.
Steve said to me, the first day we met, before we'd started shooting the film, "There's only one actor under 30 I think I want, and I think is beyond just very confident and in fact great: Anton Yelchin." I didn't know who Anton Yelchin was, and when I found out who he was, I said, "I'm not sure." But I really had a great deal of trust in Steve. And when I saw this movie, all you need is the first two minutes, and a scene he has with a villain in a convertible. And when I saw that scene, I just relaxed and said, "Great. He has found the perfect Odd Thomas."
Koontz told us the Odd Thomas movie basically covers the events of the first book. And Addison Timlin plays Odd's girlfriend Stormy, and is just as great as Yelchin is. "She's just amazing. I couldn't be happier about the performances in this movie. They are really above the cut of this type of movie generally speaking." He also adds that Sommers does some things stylistically that are innovative: "He uses transitions, or he does scene transitions, in a way that I've never seen before, that just move me. And they're very effective at keeping the pace moving."
Adds Koontz: "I'm just happy. You never know if anything's going to be a success or not, but I can watch this again. And the rest of them I couldn't watch again. Some [of my movies] I couldn't watch the first time." He says Sommers is just shopping the completed film around, for a possible release this winter: "They're making the distribution deal as we speak."
Meanwhile, Koontz says he's in discussions about a TV series based on his Frankenstein novels, co-written with Kevin J. Anderson. They're "down to the last little thing about the contract. I can't talk about it until it's real. But it is Hollywood, you never know if it's real, even after you've signed. But I think it is real, there are some very credible people involved." He doesn't think he'll do any more Frankenstein novels, but there are great writers and producers attached to the series, so he has some faith that it will actually be close to the source material.
Frankenstein actually started out as a TV pitch, which started as a one-hour pilot and then got expanded to two hours — and then Koontz realized his producing partner had a very different agenda than he did, so he took his name off it. But in the end, he realized his ideas in book form.
The Future of Odd Thomas
Next week sees the release of Odd Interlude, a three-part novella being released in e-book form. (We published an exclusive excerpt, which you can read here.) At 65,000 words, it's actually too long to be a novella — and it's nearly as long as a lot of actual novels. "I decided it has to be, in essence, a novel."