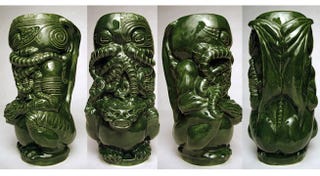 Cthulhu and cuteness are vying for your crowdfunding dollars this week, with unholy tiki mugs, an adorable collection of comics featuring Metroid's Samus, and a charming video game about a girl with time-traveling goggles. There's also a system for turning school into a role-playing game and a documentary about the rise, fall, and future of Detroit.
The Horror In Clay Cthulhu Tiki Mug: Cthulhu might go back to R'lyeh to sleep after he's had a few cocktails from this mug. All mugs are food and drink-safe. For $40 you'll receive your very own 20-ounce mug, perfect for all your madness-inducing alcoholic concoctions.
ClassRealm Classroom RPG: Back in March, sixth-grade teacher Ben Bertoli wrote a piece on our sister site Kotaku detailing how he turned his classroom into an RPG. Now he wants other folks to share in his game-inspired approach to greater classroom engagement by developing a customizable tool for teachers, students, and parents. For a $25 pledge, you'll receive three months of access to ClassRealm+.