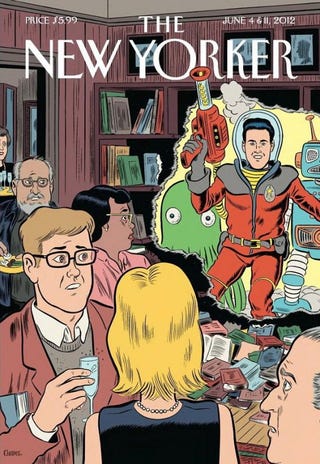 People who enjoy seeing the collision of literary and genre fiction have an unusual bounty right now: The New Yorker just turned its summer fiction edition over to science fiction. And last month the literary magazine Tin House produced its first "Science Fair" edition.
The two magazines took somewhat different tacks, as would be expected from an old guard multi-interest weekly magazine like The New Yorker and the 13-year-old quarterly that focuses on literary fiction like Tin House. That, in turn, makes the occasional overlap very interesting.
The much longer Tin House issue includes ten long pieces of nonfiction, ranging from reportage to personal history to meditations on the temporary viewed through the lens of physics. The five short book reviews focuse on science books rather than science fiction, while the 13 poems ranged from sci-fi kitsch (Animorphs) to straight science fiction, to merely science-inflected. The New Yorker snagged much bigger names for its fiction and its nine non-fiction pieces. (The rest of the magazine, from Cinema to Theatre to Books to "Talk of the Town" remained untouched by their experiment. Only Emily Nussbaum, possibly the best television reviewer in mainstream print media, plays along, reviewing Doctor Who and Community and talking about fan culture.) The magazine's two poems are, like many in Tin House, science inflected, rather than straight-up science fiction.