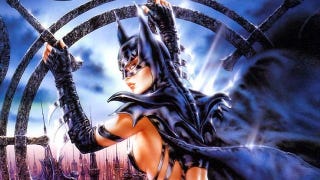 Are we in the golden age of superhero porn? It sure seems like that. The Avengers continues to break box office records, and meanwhile a ton of superhero porn spoofs come out every month. There will probably be a dozen Justice League porn films before a real Justice League movie ever comes out.
But superhero porn has a long, if not necessarily proud, tradition, going back to 1940s comics featuring Superman and Plastic Man doing weird and obscene things. Here's the history of superhero porn, of the last 60 years.
Note: This is necessarily an incomplete history, because there's never going to be perfect archiving or cataloguing when it comes to teh pornz. Also, we're leaving out things like Flash Gordon porn, or Barbarella, because they're sort of grey areas in terms of being superheroes.
Tijuana Bibles
In the 1930s and 1940s, one of the most popular forms of porn consisted of tiny erotic comic books called "Tijuana Bibles" — including some which parodied popular characters of the time like Flash Gordon... or Superman. According to TijuanaBible.org, there's an early 1940s comic called Superman and Lois, in which Superman "rescues Lois' virtue," and then has sex with her himself. (So if someone asks you what the worst Superman comic of all time is, now you know.) And of course, Superman co-creator Joe Schuster drew a series of fetish/bondage comics depicting Superman and Lois look-alikes doing BDSM. (Pictured at left.)