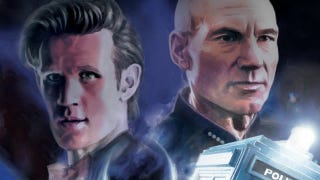 What's coming into comic shops tomorrow? A clash of two venerable television shows, Batman battling architecture-themed supervillains, and a new issue of Jeff Smith's Rasl. Set sonic screwdrivers to stun.
First things first, IDW Publishing is releasing Star Trek: The Next Generation/Doctor Who: Assimilation ², a miniseries that sees two foes from these stalwart science fiction programs join forces. Here's the rundown:
When the Federation's most terrifying enemy strikes an unholy alliance with one of the Doctor's most hated antagonists, the result is devastation on a cosmic scale! Spanning the ends of space and time itself, Captain Jean-Luc Picard and the crew of the USS Enterprise find themselves joining forces with the Doctor and his companions, with the fate of the galaxy hanging in the balance.
Other debuts this week include the Teen Titans spin-off series The Ravagers, Franco and Art Baltazar's Superman Family Adventures, and the Mike Mignola-penned one-shot BPRD - Hell On Earth: Transformation Of J.H. O'Donnell.
As for other issues, there's a new installment of Jeff Smith's fabulous dimension-hopping book Rasl. Other sundry reads in the grab bag include Angel and Faith, Wolverine And The X-Men, Walking Dead, Incredible Hulk, American Vampire, and Teenage Mutant Ninja Turtles (preview here). Two consistently enjoyable DC titles — Batman and Animal Man — are also releasing annuals this week.